The S&P500 Futures (CME: ES) stopped just shy of a level of significance, forming the year-to-date high after five straight weeks of gains. The futures are on track to close the week in the red to end a massive bullish run that saw 7.82% of gains at its peak.
Traders will now be looking to interpret the U.S. PMI data as they determine whether weakness in the U.S. economy is developing into a trend or a minor blip at the moment.
Technical
The S&P500 Futures have trended higher, forming an ascending channel pattern with the moving average at a considerable distance to price action. Support and resistance were established at the 4100.75 and 4197.50 levels, respectively.
A rejection of the resistance level took the S&P500 futures below the lower bound of its ascending channel and into the 61.80% Fibonacci Retracement Golden Ratio, where the price found support. The breakdown could be indicative of the build-up of bearish momentum. A high volume breakout below the golden ratio could validate an extended move lower, with bears looking to the 4100.75 level with interest.
Alternatively, if the golden ratio holds as support, bulls could re-establish their recent dominance with the 4197.50 level earmarked as a probable level of interest.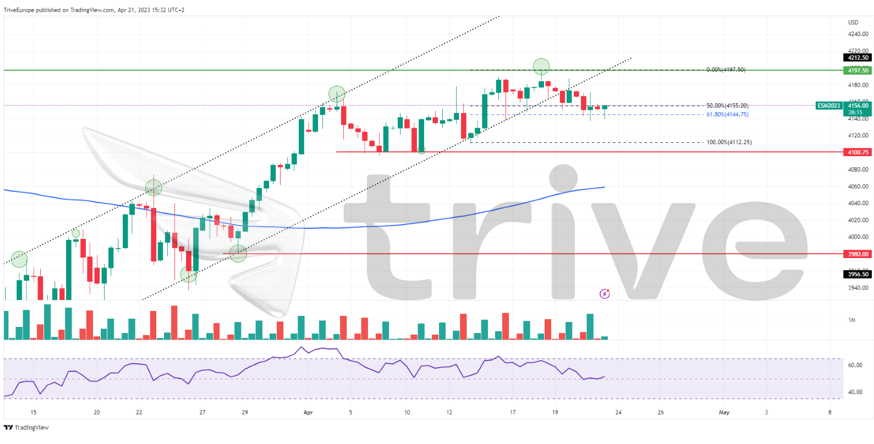 Summary
If the U.S. economy proves to be depressed, as with the labour market, manufacturing and services activity, expectations of consistent Fed rate hikes throughout the year could subside, to the benefit of the S&P500 Futures bulls. The 4144.75 level, forming the golden ratio, will be key to watch as bearish or bullish sentiment could pivot off the level.
Sources: Reuters, TradingView