The EURJPY currency pair bulls are closing down on a 26-week high with its eight-year high around the corner. Driving the pair higher was a return to risk-on sentiment, along with an interest rate differential which saw the Euro gain aggressively.
Japan's Balance of Trade produced a deficit in March, further weighing on the Yen as imports exceeded exports, adding more selling pressure on the Yen than buying pressure. On the other hand, the Euro Area's balance of trade was positive, reflecting higher demand for European products and the Euro itself.
Key events lie ahead for the remainder of the week, with the Japanese Inflation and Euro Area Preliminary PMIs lined up. Further volatility could build up for the pair as traders await to take a direction on the data.
Technical
The EURJPY currency pair has been in an undisputed uptrend as bullish traders knocked out bears at any efforts to sell the pair of late. Support was established at the 146.736 level after a breakout above the prior resistance level ensued on high volumes. Resistance is located at the 148.398 level, which forms the high of 2022.
If bullish momentum is unchallenged, bulls could look to take the pair to its 26-week high as they close down on an 8-year high. Alternatively, if declining volumes follow upside price action, it could indicate the diminishing bullish momentum and a probable reversal forthcoming. Bearish traders will likely look to the 146.736 level as a probable target if they liberate themselves from the bullish onslaught.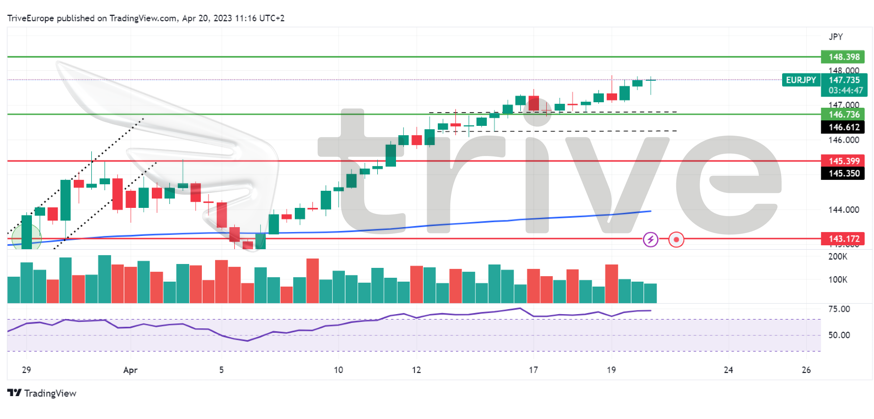 Summary
With the European Central Bank devoted to fending off inflation, further rate hikes will likely be implemented in the short to medium term. The interest rate gap between Europe and Japan's rate could widen, bringing favour to the Euro's upside momentum at the expense of the Yen. Therefore, the 26-week high at the 148.398 level is probable if bullish traders crowd up to commit to the upside move.
Sources: Reuters, TradingView