The Bank of England announced today a 50bps interest rate hike to 4% and gave consumers hope that it could be the last in the painful battle against inflation. A more hawkish approach than the US Fed would typically invite the bulls into the market for the GBPUSD. Still, a cloudy economic outlook overshadowed the outlook for the highly topical cable pair.
The IMF released a growth outlook earlier in the week, predicting a far worse outlook for the UK than even Russia, as inflationary pressures keep putting strain on the economy. The Bank of England has since announced that they expect a somewhat "shallow recession" in the upcoming year, which provided a further catalyst for downside momentum in the GBPUSD as the 50bps hike could potentially be the last for the struggling economy.
Technical
A consolidation was seen forming on the cable pair between $1,229 and $1,240 as traders started anticipating the interest rate decisions for the US Fed and BoE. After the Fed announced a 25bps hike, the dollar softened slightly, pushing the cable pair up. Still, the gloomy outlook for the UK economy largely overshadowed the announcement as the pound trended downward leading up to the BoE announcement. The 50bps hike by the BoE provided limited upside for the cable pair as the bears fought, pushing the currency back down to the lower end of the consolidation range. This level, at $1,229, could be important for traders to keep an eye on. A breakout below that level could signal that the bears are building more momentum, bringing the first potential support level of $1,224 into play. However, if support holds at $1,229, a possible bounce is on the cards to the upper consolidation level of $1,240 as the bulls embrace the more hawkish rate hike.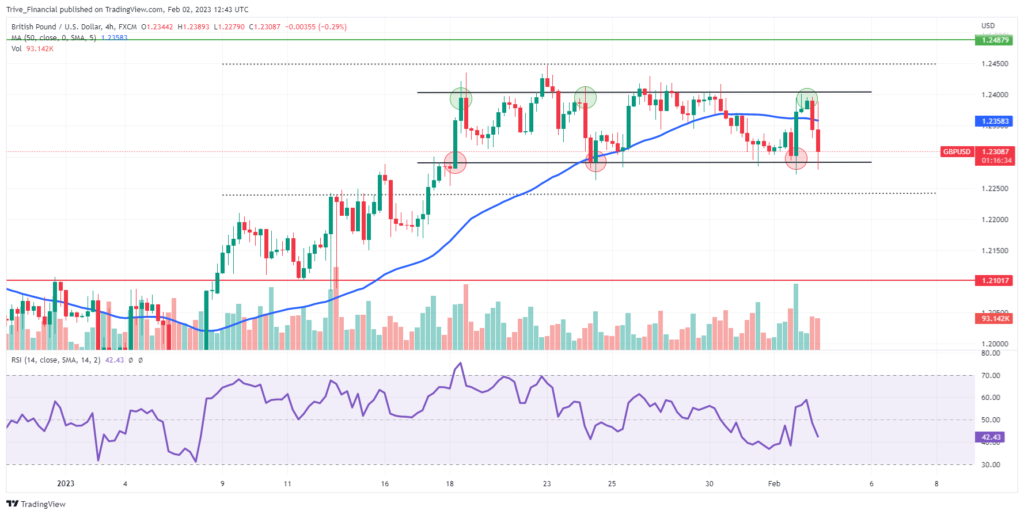 Summary
A more hawkish stance by the BoE compared to the Fed could tempt the bulls to enter the market. However, a dim outlook for the UK economy is what is driving the bears to gain downward momentum. If support does not hold at $1,229, there could be a potential short entry for the bearish trader with a possible target price of $1,224 in mind.
Sources: Koyfin, Tradingview , Bank of England