The S&P500 Futures (CME: ES) is set for a blockbuster week, with 42% of its market capitalisation reporting first-quarter earnings. Volatility will likely peak as earnings results flow in one by one.
The main events will be the release of earnings in the tech sector, with some of the globe's most valuable companies set to release, including Microsoft (ISIN: US5949181045), Meta (ISIN: US30303M1027) and Google (ISIN: US02079K3059), among many other giants.
Technical
The S&P500 Futures have trended north, within an ascending channel pattern above the 100-day moving average. Support and resistance were formed at the 4100.75 and 4197.50 levels, respectively.
A rejection of the resistance level sent price action plunging toward the 61.80% Fibonacci Retracement Golden Ratio level, where volumes subsequently declined to form a sideways consolidation within a rectangle pattern. If the level holds as support, a high volume breakout above the rectangle pattern could signal the return of bullish sentiment, with the 4197.50 level earmarked as a probable level of interest in a bull case.
Alternatively, if the Golden ratio fails to hold, bears could be amid a leg down validated by a high volume breakout below the rectangle pattern. The next probable level of interest is set out at the 4100.75 level in a bear case.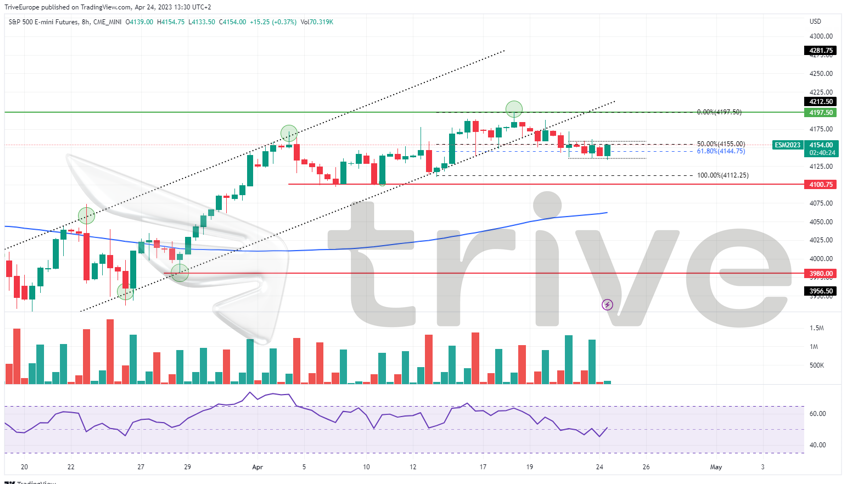 Summary
Further piling onto the expected earnings volatility will be this week's labour market report and PCE Index, the Federal Reserve's favoured inflation gauge. The labour market is expected to show further weakness, while the Core PCE Index (Month-on-Month) is forecast to remain flat at 0.3%. If weakness abounds, further rate hikes could become questionable to the benefit of the S&P500 Futures bulls, who would be happier with lower borrowing costs.
Sources: Reuters, Goldman Sachs, Factset, TradingView