Bulls will be delighted this week as the EURJPY currency pair shot up to the sky on a strong appetite for risk. The safe-haven Yen lost out as a result, with the EURJPY gaining 3.13% this week.
The Euro's upside momentum was supported by German preliminary inflation ticking up ever-so-slightly against consensus, reinforcing expectations of further rate hikes by the European Central Bank (ECB). Traders will await the highly anticipated Euro Area Inflation reading to determine whether the ECB's aggressive stance towards inflation is justified.
Technical
The EURJPY entered an uptrend following price action breaking above the 100-day moving average and establishing an ascending channel pattern. The uptrend was fortified by price breaking above a key resistance level, which now acts as support at the 143.172 level. The resistance level currently stands at the 145.399 level.
If bullish traders endure, a breakout above resistance at the 145.399 level on high volumes will likely direct the pair higher. Bulls will probably sustain the uptrend toward the next level of significance at the 146.736 level.
Alternatively, with price trading at resistance, bearish traders could apply a textbook example of a reversal from resistance if supply outweighs demand at the 145.399 level. Bearish traders will likely aim for support at the 143.172 level if sellers shake up the market.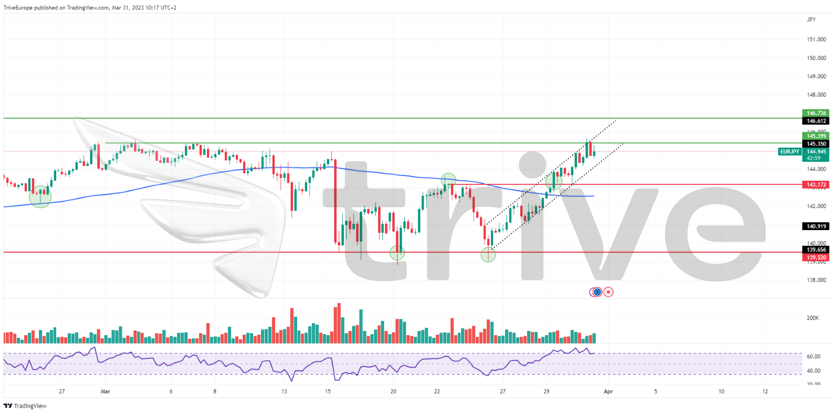 Summary
Key to price action today will be the Euro Area inflation, along with the PCE Index, which the Federal Reserve prefers as an inflation tracker. If inflation points higher, further rate hikes by the ECB could become ten to one as the ECB has its finger on the trigger in its battle with inflation. The 145.399 level will be pivotal to watch as the market could respect the level or break it, depending on sentiment arising from inflation.
Sources: Reuters, TradingView