The S&P 500 futures (CME: ES) bulls recovered some of the losses made on the index following a panic selloff from high U.S. inflation readings. Bets on further rate hikes firmed as traders turned hawkish on the PCE Index reading. The S&P 500 futures suffered a 2.61% loss to end the week lower.
Technical
The downtrend gained traction last week after price fell from resistance at the 4024.75 level. Support was established when price reversed from the 3972.25 level. A retracement from support led price into the 61.80% Fibonacci Retracement Golden Ratio at the 4004.75 level.
Traders will now look to the level to identify supply and demand conditions. If price rejects the level with a bearish candle on high volume, it is probable that bears are willing to interact at the level and drag price lower, possibly towards the 3972.25 level.
Alternatively, if bulls drive the market higher, a breakout above the 4004.75 level on high volume could nudge the price higher, with the 4025.00 level an area of interest.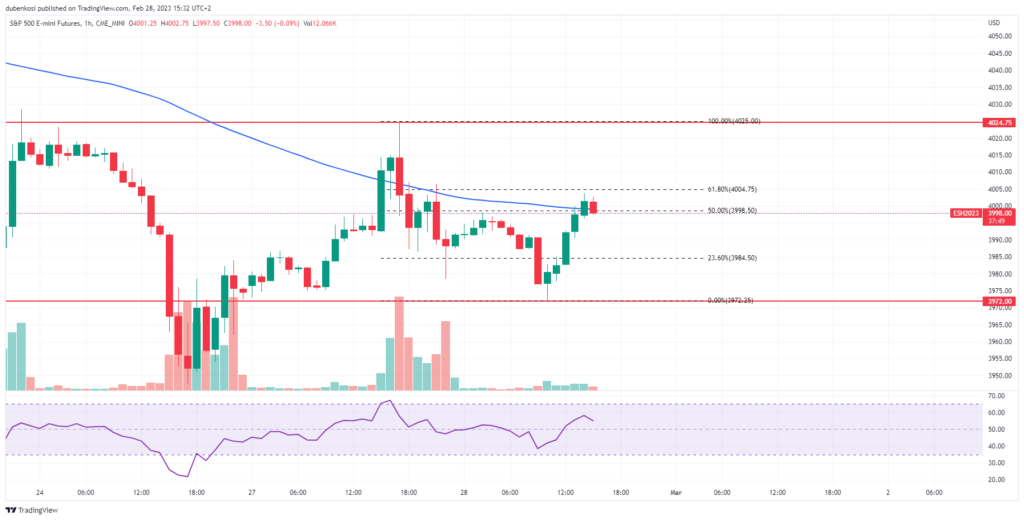 Summary
Traders will later this week set their sights on the U.S. Purchasing Managers Index for cues on the Federal Reserve's next potential move. If the U.S. economic activity ticks up, it will likely prompt further rate hikes and dampen bullish sentiment.
Sources: Reuters, TradingView