The Dow Jones 30 Futures (CME: NQ) suffered a 1.07% loss week-to-date as traders couldn't bank on the Banking Sector's jitters phasing out fully. Traders turned risk-off after the failure of another large bank, making it the third mid-sized bank to fail this year.
The banking sector jitters add to a cocktail of economic events which traders will be glued to from today. The U.S. Interest Decision and Fed Press Conference will be the main events for the day, with U.S. Services PMIs in between.
Technical
The Dow Jones 30 Futures have maintained an uptrend, although the momentum subsided, leading to price action consolidating sideways within a rectangle pattern. The pattern's support and resistance were formed at the 33495 and 34341 levels, respectively.
Given the market has been winding through the rectangle pattern, with strong reactions to the support and resistance, it is likely that bulls currently have the upper hand after the index rejected support with high volumes to support the rejection. Bulls will likely look to resistance at 34341 for take-profit levels if they commit to the upside, while bears look to the same level for short opportunities with the support level in mind.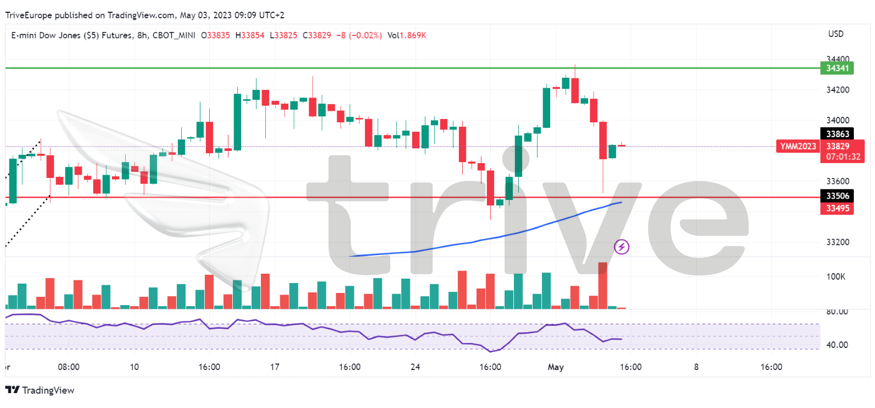 Summary
The markets are pricing in a 25 basis point rate hike by the Federal Reserve, which could weigh on equity valuations as higher borrowing costs eat into earnings. Traders will closely monitor the rates decision, the Labour market reports, and Services PMIs to determine what is next for the Dow Jones 30 Futures. The 33495 and 34341 levels will be vital in deciding sentiment, while a breakout on either side could validate the end of consolidation.
Sources: Reuters, TradingView