IBEX 35 paused its rally slightly off highs last witnessed in mid-2021. The robust US Jobs report renewed expectations of continued rate hikes as inflationary drivers refuse to back down. The IBEX 35 may experience some headwinds in the form of elevated interest rates and a minor recession.
Technicals
Five consecutive weeks of gains were stalled post the US Jobs Market release. A slight decline in the index of 0.82% occurred since the release as investors switched to risk-off sentiment.
Resistance and support formed at the 9198.84 and 9078.43 levels, respectively. A retracement from the prior high led price back into a gap-up zone at 50% Fibonacci retracement or the 9137.99 level. A rejection from the level ensued, signalling the return of bullish momentum. A possible target at the gap down or 9198.84 level is probable for a bullish case.
On the other hand, a breakout below the 9137.99 level could signify continued bearish momentum on the back of a risk-off attitude among traders and investors, with a potential target at the support level of 9078.43.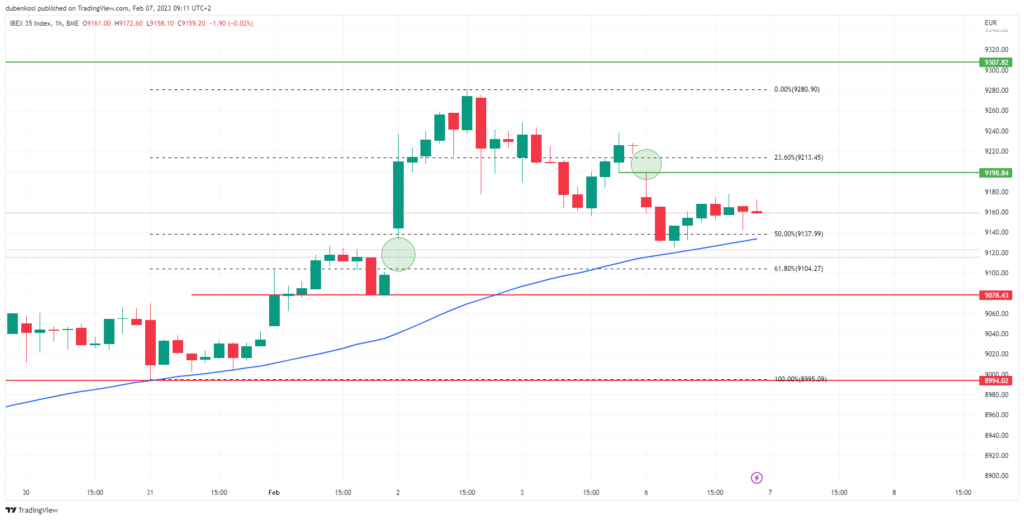 Summary
For cues, traders and investors will closely monitor Fed Chair Jerome Powell's speech on Tuesday, 07 Feb. Should the Federal Reserve signal a hawkish tone, it could mean gains in haven assets such as cash and bonds at the expense of risk assets.
Sources: CNBC, Reuters, TradingView