IBEX 35 reached a 20-Month high after a bullish run led to the recovery of losses incurred since a selloff, which kicked off in June 2021.
Traders will look for direction cues from today's Eurozone PMI and the Federal Reserve's FOMC minutes. An intensified hawkish stance by the Federal Reserve will weigh down on the index as traders turn to higher-yielding safe-haven assets such as US Dollar Cash or Bonds.
Technical
Following a bullish run, IBEX 35 traded in a consolidation represented by a rectangle pattern. Support and resistance were established at the 9076.60 and 9276.30 levels, respectively. Price action broke above the resistance level as bulls worked their way through the market on dovish sentiment.
Traders will look to the prior gap up, which serves as support at the 9241.36 level for direction. If price breaks below the level, it could indicate bearish pressure building up with the 9156.12 level, a point of interest for a bear case.
Alternatively, if bullish traders ignore the red flags suggesting high inflation, price will likely be driven higher toward the 9362.49 level.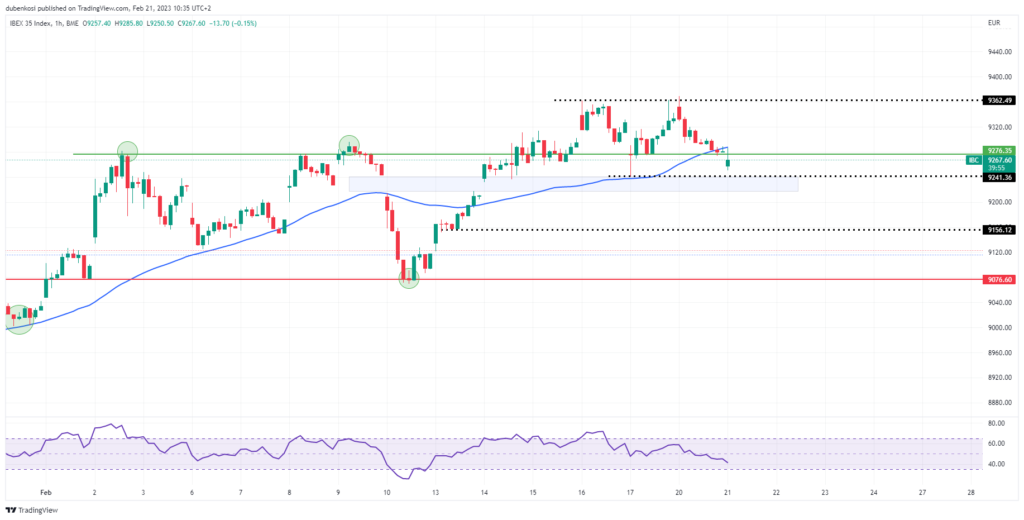 Summary
The 9241.36 level serves as a pivotal level for the index. If the Federal Reserve implies hawkishness, price will likely be driven towards the level and break below if the trend turns to the downside.
Sources: Reuters, TradingView