The NASDAQ100 Futures (CME: NQ) have seen bulls and bears in balance as the index consolidated over the past two weeks within a wide range. Uncertainty has plagued traders as they are still determining whether another rate hike is in the books.
The U.S. economy showed signs of cooling down as services and manufacturing activity took a knock. At the same time, inflation seemed to have peaked, giving rise to expectations of the Federal Reserve's pause in rate hikes. However, the markets have been jittery over comments by Federal Officials on the need for higher rates, along with more robust manufacturing data up to 10.8 against expectations of negative 18 in the New York Empire State Manufacturing Index.
Technical
The NASDAQ100 Futures have flirted with the upside, forming an uptrend with price trading above its 100-day moving average. The 61.80% Fibonacci Retracement Golden Ratio at the 12906.75 level established support after bullish traders kept the market afloat the level. Resistance was formed at the 13345.00 level following a rejection of the price level.
Volumes subsided to form a consolidation, with price now trading in a symmetrical triangle pattern formation. A breakout to either side of the pattern supported by hefty volumes could validate a leg up or down in the index value. A breakout to the upside could leave bullish traders charging for resistance at the 13345.00 level, while a breakdown below could entice bears to lower the index, with the 12906.75 level earmarked as a level of interest.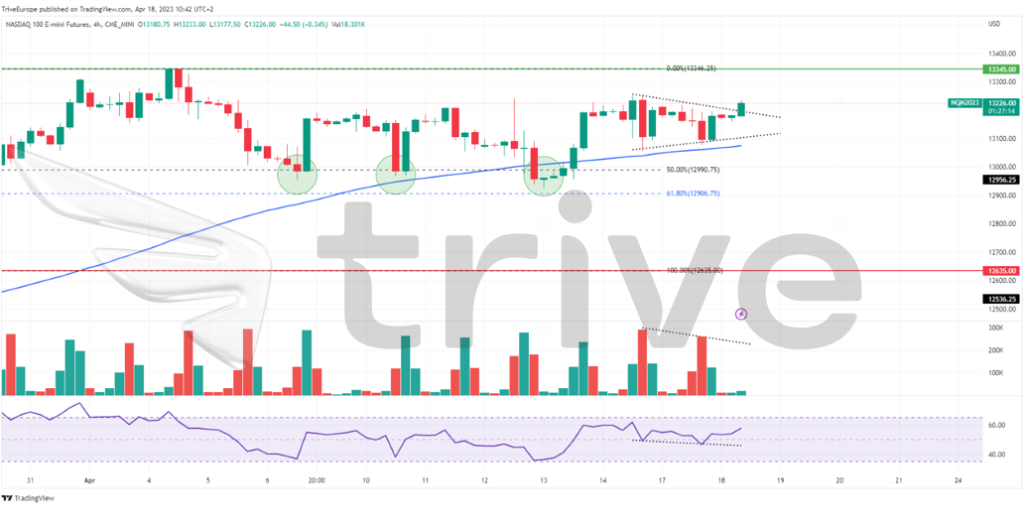 Summary
The NASDAQ100 Futures will likely attract volatility with more at stake in the week ahead. The U.S. Labour Market and Home Sales Reports will precede the preliminary readings on services and manufacturing PMIs. Traders will look for signs of a cooldown in the labour market and economic activity to validate upside potential, as it could pre-empt the possibility of rates and inflation peaking.
Sources: Federal Reserve Bank of New York, Reuters, TradingView