The majority of the NASDAQ100's top ten companies are set to release earnings this week, leaving the NASDAQ100 Futures (CME: NQ) skating on thin ice.
The index could heavily lean towards earnings results from its bigger constituents. The U.S. labour market report, along with key inflation data, could add to the volatility cocktail being served this week.
Technical
After running away from its 100-day moving average, the NASDAQ100 Futures retraced 50% to the 12989.00 level, a pivotal point at which bullish traders have held up thrice. Support and resistance at the 12635.00 and 13345.00 levels are firmly in the picture, depending on whether the 12989.00 level is held up or breached.
If bulls maintain their firm footing at the 50% Fibonacci Retracement Level, supported by positive earnings results, the 13345.00 level could be the next destination for the NASDAQ100 Futures. Alternatively, a high volume breakdown below the aforementioned level could prompt a leg down as bears search for the 12635.00 level.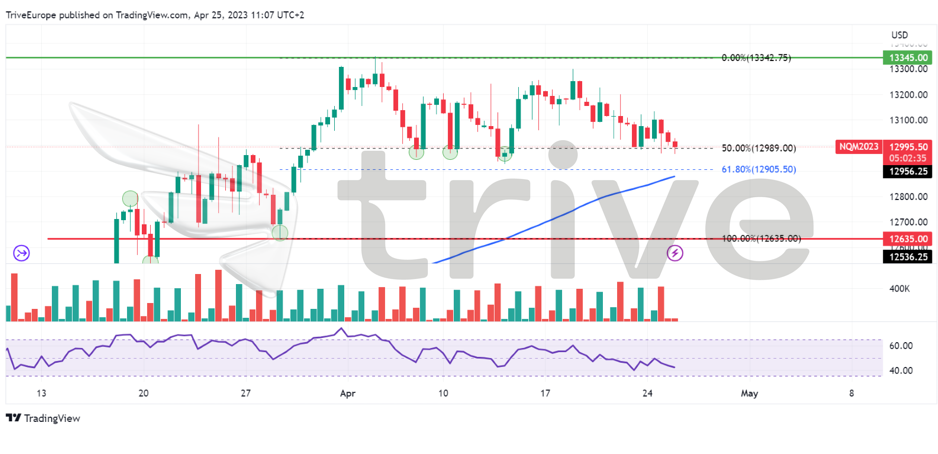 Summary
The heavyweight tech earnings are set to inject volatility into the NASDAQ100 Futures, with the direction likely to align with positive or negative earnings results. On the rates side, traders are pricing in an 88.6% chance of a 25 basis point rate hike in the next Federal Reserve decision, while the year-end sentiment is leaning towards a likely ease in rate hikes. The 12989.00 level will be pivotal as bearish or bullish sentiment leans on price action at the level.
Sources: Reuters, CME FedWatch Tool, TradingView