After three consecutive days of losses, the NASDAQ100 Futures (CME: NQ) rallied 1.96% in Thursday's trading session. Traders turned bullish following the steeper-than-expected decline in producer inflation, accompanied by a softer labour market.
Expectations of a Fed Rates pause towards the year's close prevailed, leaving rate-sensitive tech stocks with room to manoeuvre upwards while the greenback sunk to a one-year low. Tech shares, including Apple, Amazon and Microsoft, were among the top gainers sending the futures higher. Traders will shift their focus to today's U.S. Retail Sales as they determine whether consumer spending is converging with the downward trend in inflation and the labour market weakness.
Technical
The NASDAQ100 Futures bulls have diligently supported price above the 61.80% Fibonacci Retracement Golden Ratio at the 12906.75 level as they look to maintain a stronghold on the market direction. Resistance was established at the 13345.00 level following a rejection which led to a retracement.
Volumes have taken a plunge ahead of the key economic data upcoming, forming a consolidation within a rectangle pattern. Bulls will likely have the upper hand supported by fundamentals and be enticed to take the index higher, with the 13345.00 level earmarked as a probable level of interest. A breakout above the rectangle pattern on high volumes could validate upside price action.
Alternatively, bearish traders will look to the 12906.75 level as a probable target if bulls are overweighed within the consolidation period. A high volume breakout below the rectangle pattern could signal a leg down.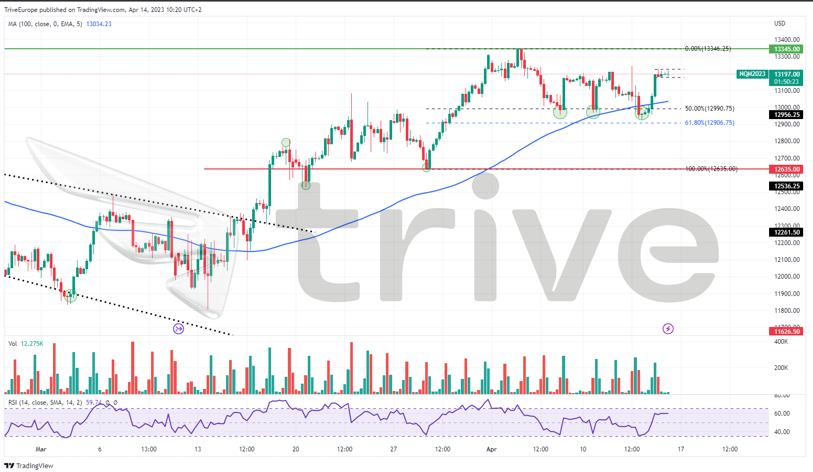 Summary
The consolidation pattern's support and resistance will be key in defining the sentiment and probable direction the index will take. However, traders will likely be waiting on the retail sales in anticipation of the Federal Reserve's future interest rate direction. If the Retail Sales cool down below expectations, the NASDAQ100 Futures could nudge ahead as tech stocks benefit from a higher probability of a rate pause in the near-term.
Sources: Reuters, TradingView