WTI Crude Oil Futures (NYMEX: CL) broke a 10-week streak of inventory builds as inventories fell by 1.7M, compared with a build of 395K estimated. The sharp drop in inventories signals the presence of elevated demand, largely due in part to China's surge in demand following its reopening.
Crude Oil prices are in a tug-of-war between sentiments. On the one hand, bulls believe China's surge in demand will likely give crude oil a nudge, while bears are wary of high-interest rate expectations that will likely slow down the global economy and oil consumption thereof.
Technical
Following a steep 5.35% decline in WTI Crude Oil Futures from Tuesday's highs, price has landed near support at the $76.04 barrel (BLL) level. A temporary up move and a sharp decline from Wednesday's trading formed resistance at the $77.52 BLL level.
With price consolidating sideways, bulls and bears are likely battling for supremacy. A breakout to either side of the consolidation channel could provide sustained movement in the breakout direction as one side gives in to the other. Price will likely head toward support or resistance if a breakout occurs beyond the $76.45 or $76.75 BLL levels, respectively.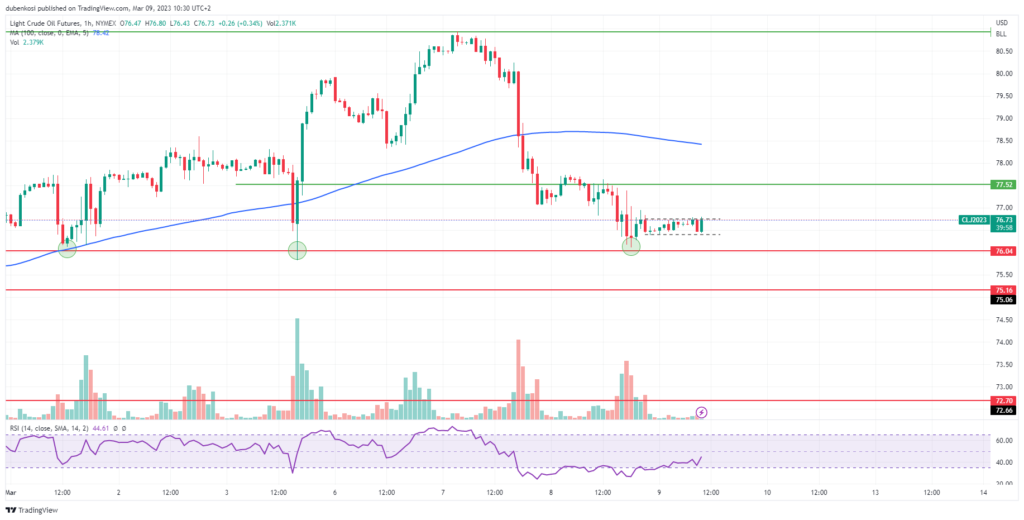 Summary
Traders will turn their attention to today's U.S. Labour market report and the heavyweight U.S. Non-Farm Payrolls set to be released on Friday for cues on the development of inflation. If the labour market reports point upwards, it will likely prompt an aggressive rate hike by the Federal Reserve and manifest fears of an economic slowdown. Downside pressures are likely to be offset by China's demand strength.
Source: U.S. Energy Information Administration, Reuters, TradingView