The Gold Spot Price (XAUUSD) printed its all-time high at the 2077.80 level, only to be overthrown by bearish traders who have taken the bullion's price down more than 5% from its peak.
The Debt Ceiling stalemate has left the market opening up to the possibility of a U.S. Default, as no resolution has arrived since the past week. The Greenback's safe haven characteristics have left traders piling into the high-yielding currency over the non-yielding bullion as a result.
Technical
The XAUUSD has traded in an uptrend, with price ticking along in an ascending channel pattern and above the 100-day moving average. Support and resistance were established at the 1903.39 and 2077.80 levels, respectively.
A rejection of the all-time high left the spot price under the duress of bearish traders. Given that the Relative Strength Index points to oversold conditions, a reversal is likely to occur with the price trading at the ascending channel pattern's support. If bulls outweigh bears, the spot price could find some upside traction taking it towards the 2077.80 level. In contrast, if bearish momentum overrides market sentiment, the 1903.39 level could materialise if a high volume breakout below the ascending channel pattern occurs.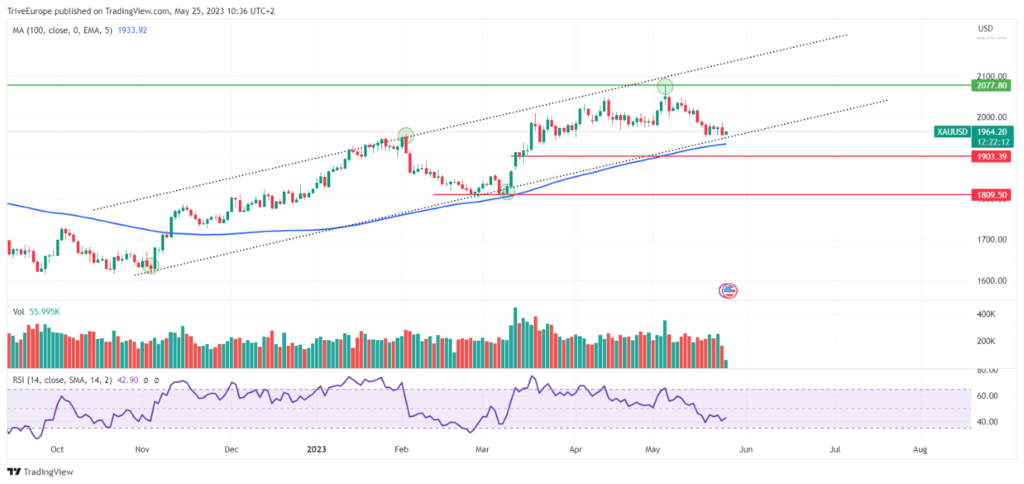 Summary
Traders will likely be spectating the Gold Spot price in anticipation of a settlement over the Debt Ceiling Crisis. If the U.S. manages to resolve the Debt Ceiling crisis, market turmoil could be avoided, opening the door to further risk sentiment and leaving safe haven assets exposed to minimal upside potential. Alternatively, if the Debt Ceiling goes unresolved, appetite for safe haven assets could abound, potentially leaving the 2077.80 level within reach for XAUUSD traders.
Sources: Reuters, TradingView