After the much-anticipated 25bps hike by the US Federal Reserve, Jerome Powell gave investors a stern warning, hinting at more rate hikes to come as he insisted that the job of curbing annoyingly sticky inflation is not done yet. Investors did not take that to heart, as the Russell 2000 pushed up on Wednesday.
With renewed confidence that the worst of the interest rates are behind them, the bulls entered the market again, with the Nasdaq rising 2% and the S&P 500 up 1,1%. The Russell 2000 index futures (CME: RTY) followed the trend ending Wednesday up 1,5%. As the dust settles on Thursday, traders will be on their toes to capitalize on potential overreactions from the market, as the recessionary outlook still looms.
Technical
In the past week of trading, the Russel 2000 index futures started a cautious upward trend as investors started anticipating lower rate hikes and the potential of a pivot in the monetary stance from the Fed later in the year. A breakout above a key resistance level of 1917,5 pushed the index futures further up, and with a boost from the interest rate decision, the index futures ended Wednesday trading at 1967,0. If the index futures break out in Thursday trading, further upside is possible to the eventual estimated resistance of 2032,7. However, there is a possibility of a retracement back to the 1944,3 level to look for support. If the market provides support and the bullish momentum remains, the bounce back to the current level of 1967,0 could be significant, as that level might offer further resistance. However, if support does not hold at 1944,3, another downside is on the cards to coincide with the initial higher lows that were forming before the breakout, and the index futures might trade lower to the 1917,5 level in looking for support.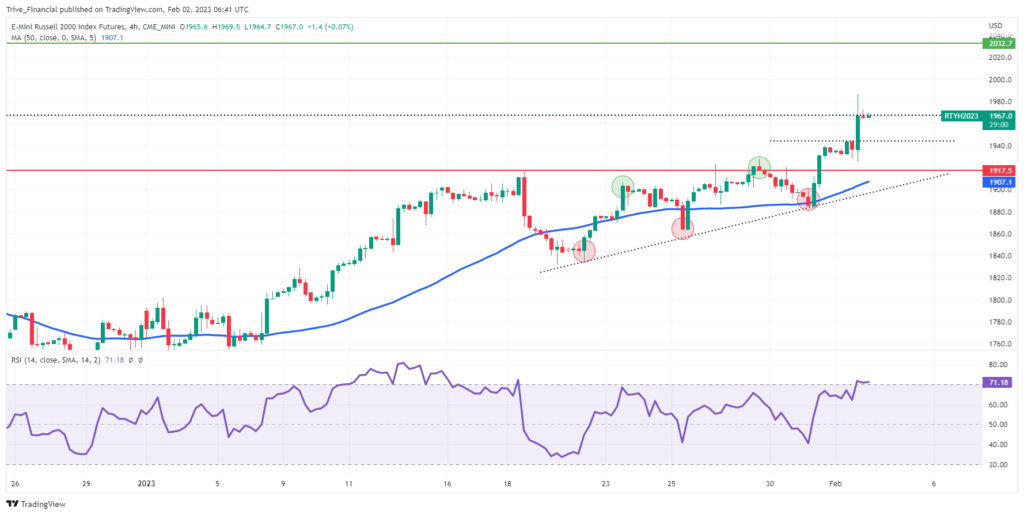 Summary
A retracement from a potential overreaction from the market might open up a possible long entry for a short-term trader at 1944,3 with a likely bounce back to current levels of 1967,4 in mind and an eventual estimated target of 2032,7 if resistance does not hold.
Sources: Koyfin, Tradingview