The Hang Seng Index Futures (HKEX: HSI) continued its impressive push upward following the announcement by the US Federal Reserve of a 25bps interest rate hike. Earlier in the week, the index futures experienced a two-day contraction as investors started doubting the stellar rate of the bull run. Still, the lower interest rate hike in the US gave the index futures a further boost and renewed confidence in the upward trend.
This bull run comes at the back of a year where their GDP contracted by 3,5%. Still, the ease of cross-border restrictions and the reopening of mainland China is expected to aid the economy in recovering throughout 2023, signalling that further upside may be on the cards.
Technical 
There is clear bullish momentum in the Hang Seng index futures, with a continuation of higher highs and higher lows forming. The index futures are also trading at levels far above the 50-day moving average, signalling that the bullish momentum is holding for the time being. As the index is approaching a key resistance level at 22444, a breakout above this level could indicate to traders that further upside may occur. However, if the market resists that level, a retracement to the 21478 support is possible before further upside occurs. If that support also fails to hold, the next resistance of 20010 comes into play. However, a breakout above that 22444-resistance level could bring a first target price of 24096 into focus as the bulls keep pushing the index futures higher.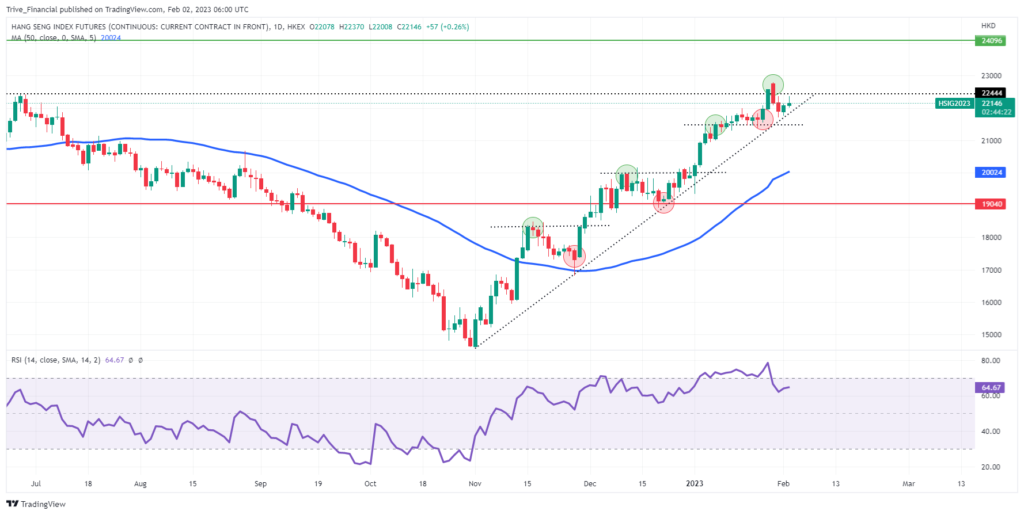 Summary 
A potential entry point for the bullish trader could occur at the 22444-resistance level if a breakout above that level is supported, with a first estimated target price of 24096.
Sources: Koyfin, Tradingview.