The EURUSD currency pair is set for a blockbuster week as high-priority economic data is lined up in the Euro Area and the U.S.
Key to this week's price action will be the interest rate decision in both regions, together with PMIs and Labour market reports. The currency pair has been upheld at a key technical level, and traders will closely monitor economic data to determine if the level will hold.
Technical
The EURUSD currency pair has maintained its uptrend with support and resistance established at the 1.09094 and 1.10935 levels, respectively. The 100-day moving average has been kept a distance away from price action, indicating a strong uptrend.
Following a reversal from resistance, the currency pair was led into the 61.80% Fibonacci Retracement Golden Ratio at the 1.09791 level. The level has been respected as support by bullish traders on a few occasions and could hold once again if bullish traders remain present at the level. Bulls could look to the 1.10935 level with interest if the Golden Ratio is rejected, supported by substantial volumes.
Alternatively, a breakthrough below the 1.09791 level on high volumes could prompt a leg down as sentiment shifts towards a bearish tone. Bearish traders will likely look to the 1.09094 level with interest should the currency pair be lowered.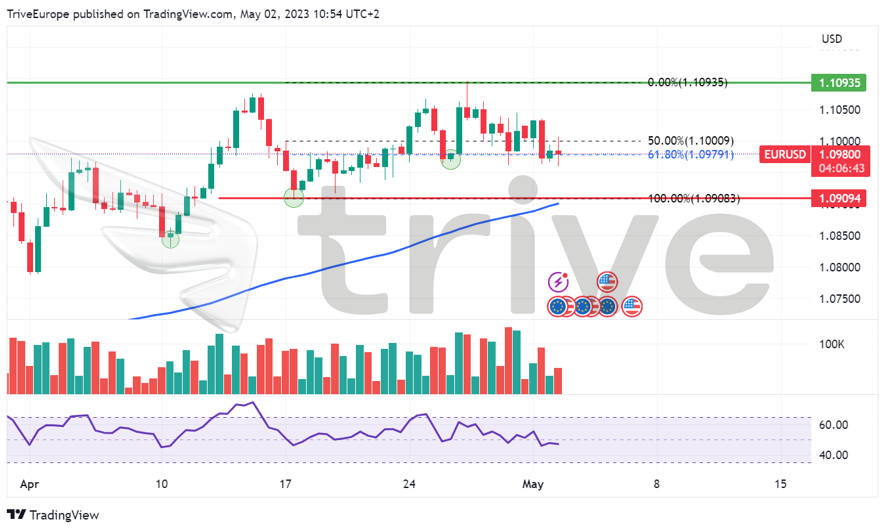 Summary
The German Retail Sales came in much lower than expected, reflecting weakness in Europe's biggest economy, a feat which the European Central Bank (ECB) has been hoping for in its fight against inflation. The Core Inflation Rate edged lower year-on-year, following the trend in retail sales and promoting a minor rate hike, possibly of 25 basis points by the ECB. Across the Atlantic, the U.S. ISM Manufacturing PMI ticked higher than last month's reading, sending the probability of a rate hike to nearly 95%. The 1.09791 level will be key in defining the market's sentiment towards the currency pair, as bullish or bearish sentiment could pivot off the level.
Sources: Reuters, TradingView