The Hang Seng Index Futures (HKEX: HSI) started the year filled with optimism over the prospects of a recovering economy, spurred by the reopening of China and the easing of their tight Covid-19 policies. The US crashed their party in early February, as persistent inflation weighs on China's ability to implement the necessary policies to stabilise their economy.
The Hong Kong economy reached its lowest unemployment number in three years earlier this week, but it was not enough to force the market to break out of the downtrend pattern. Higher PPI, inflation and Non-Farm Payroll numbers added insult to injury caused by geopolitical tensions between the US and China, as the Hang Seng futures cancelled out a large part of its early-year returns in the last two weeks.
Technical
On the 4H timeframe, a falling wedge formation has formed as the Hang Seng futures continue to face pressure. The futures can experience more downside to the end of the week, as the market may look at the falling support (lower black dotted line) at approximately 20617. After that, the pattern could continue for a retrace to occur back to the pattern resistance (upper black dotted line) at 20882. A breakthrough above that resistance may bring higher resistance of 21475 into focus, with a breakout above potentially confirming the end of the falling wedge consolidation and a continuation of the longer-term uptrend. The next resistance level of focus could be 22009. However, if conditions continue to strain on the Hang Seng futures, and support does not hold at 20617, there could be more downside to 20169 as a signal that the longer-term uptrend is reversing.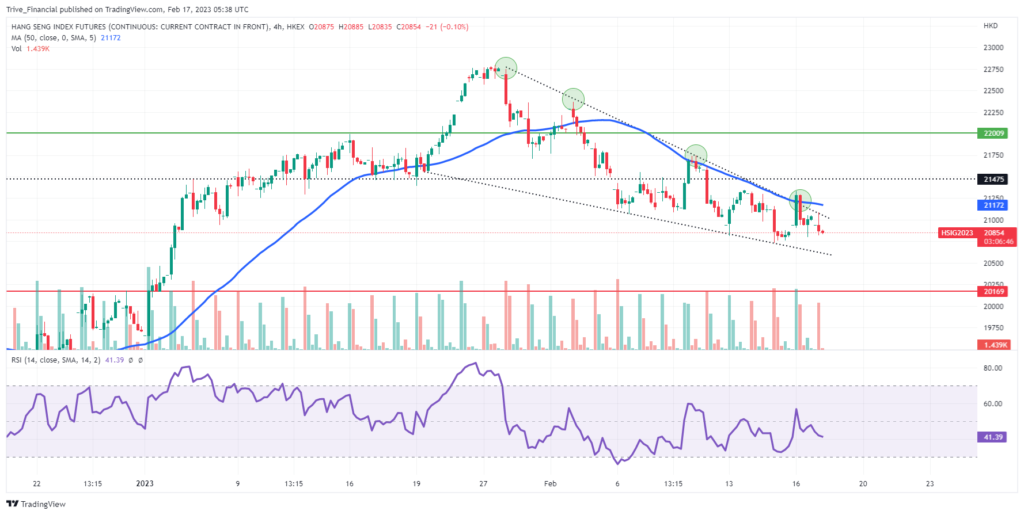 Summary
The Hang Seng futures are consolidating from a longer-term uptrend. A breakout above the falling wedge consolidation could signal the continuation to 21475 and 22009. On the other hand, a breakout to the downside could signal a reversal, and the market may look for support at 20169.
Sources: Koyfin, TradingView, Reuters