Bullish momentum in the Nasdaq 100 futures (CME: NQ) stalled after the release of lower-than-expected tech earnings. Tech giants Apple and Google reported lower-than-expected revenues and earnings, while Amazon missed its earnings estimate for Q4 of 2022.
In the short to medium term, earnings misses could sprout bearish sentiment, leaving more room for downside price action as traders and investors interpret it as a weakness in business fundamentals.
Technicals
Nasdaq 100 futures (CME: NQ) kicked off the year in an uptrend driven by expectations of a slowing pace of Federal Reserve rate Hikes in response to shrinking inflation growth.
New support formed at the 12269.75 level after a breakout occurred, originating from a retracement to the Fibonacci Golden Ratio of 61.8% from the level. Traders drove prices higher to resistance at the 12854.25 level after the Federal Reserve hiked rates by 25 basis points. However, the bullish motion was met by a wave of bearish traders pushing the price lower by 0.87% on the market open after weak earnings from Tech Giants.
Traders will closely monitor the support level at 12269.75 in anticipation of a bearish move drawing the price to the level due to weak earnings. However, if bullish traders hold firm, the price will probably move towards resistance, and if accompanied by low volume, a reversal may potentially occur.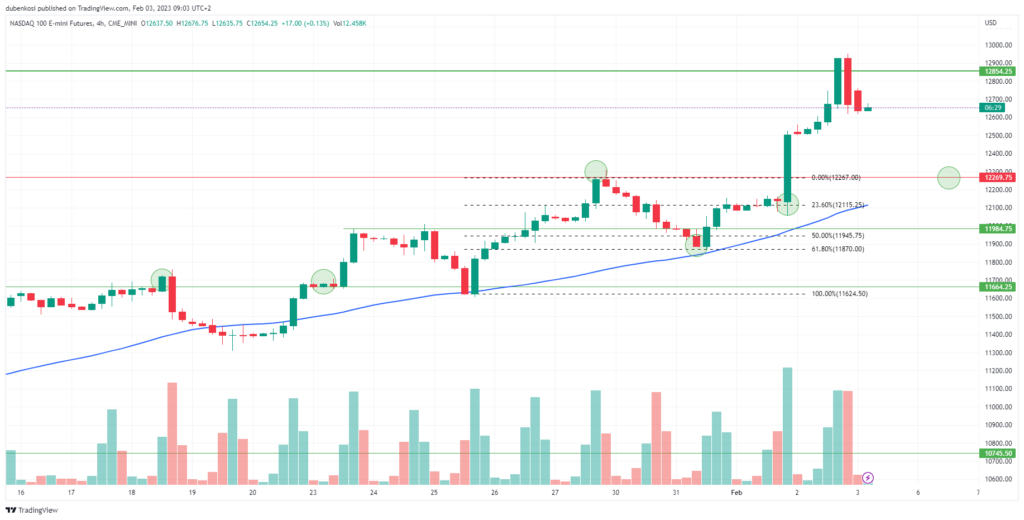 Summary
Apple, the most significant component of the Nasdaq 100, weighing in at just under 12% of the index, recorded its first quarterly drop in revenue since 2016. Accompanied by weaker earnings from Google and Amazon, and a potential soft recession in the high-interest macro environment, the tech-heavy index is likely to be weighed down in 2023.
Sources: Reuters, Financial Times, Tradingview