Cable pair traders experienced a week of chaos that resulted in a massive pound selloff. Robust US employment data rounded off a forgettable week for the pound that weaker-than-expected Services PMI headlined in the UK and healthcare strikes wreaking havoc in the British economy. That is also predicted to be the only major economy to experience a contraction in 2023. The cable bears did not waste time and were quick to pounce, driving the GBPUSD down to a level that almost entirely cancelled out the January rally.
With much higher than expected NFP numbers, hawkish sentiment returned to the US market. The dollar strengthened amid the expectation of further rate hikes to tame inflation. Jerome Powell is scheduled to speak on Tuesday, which could give the market a clearer idea of the Fed's monetary stance. The other primary driver for the week will come on Friday when the UK will release their GDP statistics. The cable currency pair will likely be driven by market sentiment around the respective economies.
Technical
As mentioned in the previous outlook, a consolidation formed in the latter part of January. A dim outlook for the UK economy was predicted to drive it down through the lower range of that consolidation at $1,2290. This played out, followed by a further selloff when sentiment in the US became more hawkish again. After the selloff, the GBPUSD had a small positive turnaround to where it is currently trading at $1,2060. It is trading far below the 50-day moving average, with the RSI indicating that bearish momentum is holding. A retest at $1,2030 can occur before a new directional price action takes place. If support does not hold, a breakout to the downside is on the cards, bringing the first target price of $1,2000 into focus. If newly released data this week continue to support the bears, a final downside target price of $1,1902 could be significant. If support at $1,2030 does hold, the bulls might push the price back up to $1,2103, with further upside of $1,2287 possible in the long term if the fundamentals turn positive.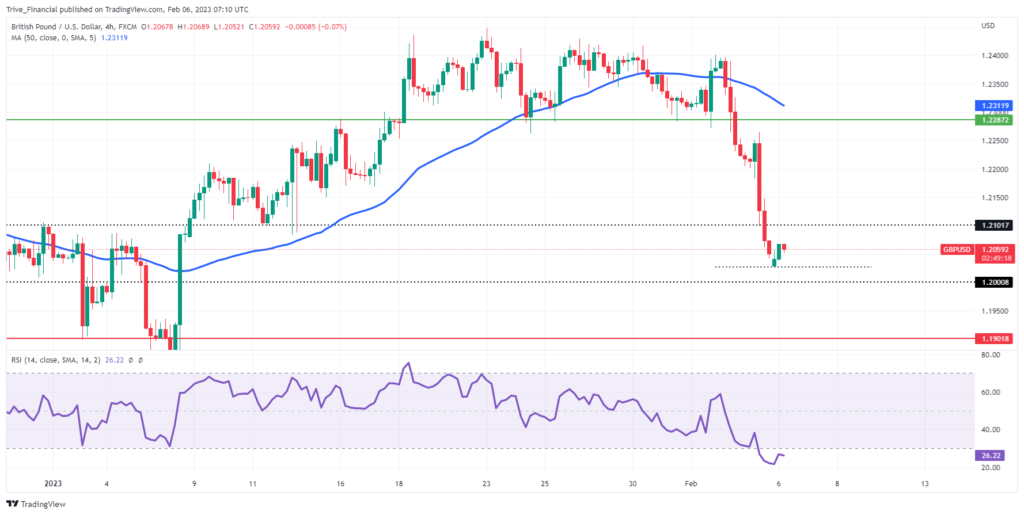 Summary
Suppose the UK GDP data and Jerome Powell's speech later in the week support the current sentiment of a more hawkish Fed and decreasing economic activity in the UK. In that case, we could see further downside to the GBPUSD, opening up a possible short entry point with eventually estimated target prices of US$1,2000 and US$1,1902.
Sources: Koyfin, TradingView