The EURUSD currency pair was under pressure in the past day's trading session after worries about the Banking Sector's stability resurfaced following a U.S. Regional bank's earnings report showing weaker-than-expected deposits.
Further helping boost the Greenback outside banking sector jitters was the much higher than expected New Home Sales, which landed 8.5% above expectation, soaring to a one-year high. Growth in home sales maintained expectations of the Federal Reserve hiking rates by 25 basis points in May. The EURUSD Currency pair let go of 0.69%, undoing the week's gains.
Technical
The EURUSD's uptrend remains intact as price action maintains its direction within an ascending channel pattern and above the 100-day moving average. Support and resistance were formed at the 1.09094 and 1.10724 levels, respectively.
After losing their footing near the 1.10724 psychological level, bulls gave into the supply, leading to a sharp reversal. The pair found support at the 61.80% Fibonacci Retracement Golden Ratio at the 1.09696 level, coinciding with the ascending channel's support. If the level holds as support, bulls could regather and bid the pair higher, with the 1.10724 level a possible point of interest.
Alternatively, a high volume breakdown below the ascending channel's support and Golden Ratio could validate a leg down, as bearish momentum potentially builds into a full-on move lower.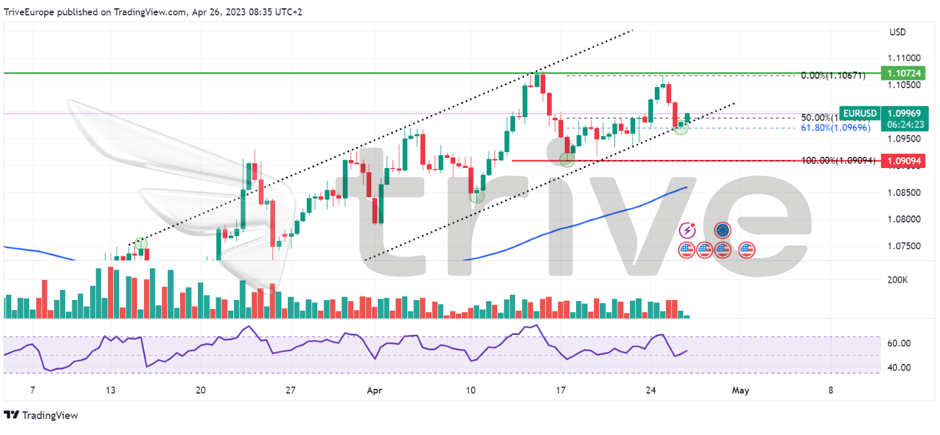 Summary
The economic calendar is jampacked with high-impact events lined up for the Euro Area and the U.S. The apex will be the U.S. PCE Index, a critical reading for inflation, followed by U.S. Labour Market Reports and German Inflation, among many more. Traders will look to the 1.09696 level as a pivot between bullish or bearish sentiment as more economic data is unpacked.
Sources: U.S. Census Bureau, Reuters, TradingView