The USDJPY currency pair gained 0.57% following the higher-than-anticipated CPI reading for January. The FedWatch Tool has placed a 91% probability of a 0.25% interest rate hike by the Federal Reserve in March, compared to bets of 79% a month ago. The greater odds are in line with U.S. Inflation which remains elevated and may prompt further rate hikes to tame it.
The interest rate differential between the Fed Rate (4.50%) and the Bank of Japan (-0.100%) is significant. It continues to play a part in the deterioration of the value of the Japanese Yen against the greenback.
Technical
The USDJPY's uptrend is firmly intact after a retracement from resistance at the 132.902 level met with strong bullish pressure at the 61.80% Fibonacci Golden Ratio Support level (131.494). Bullish pressure built up on higher expectations of a Fed rate hike, which benefits the U.S. Dollar.
The breakout above resistance on high volumes indicates bullish momentum committing to driving the market upwards. The next level of interest in a bull case is the 134.417 level.
On the other hand, if bullish traders give in at current levels, bears may find an opportunity to drag price lower towards the 132.902 level, which now acts as support.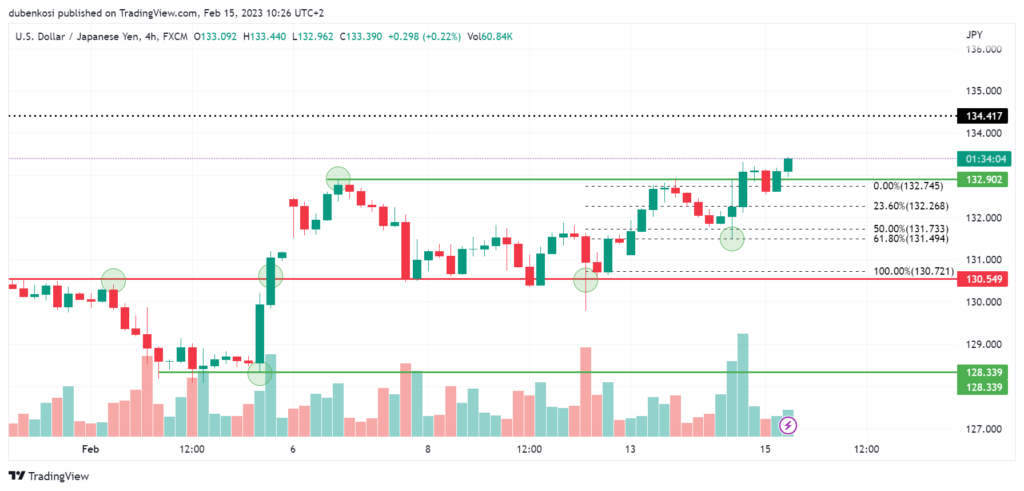 Summary
Macroeconomic conditions present in the U.S. and Japan are likely to play a significant role in the interaction of the USDJPY currency pair. Further Fed Rate Hikes will likely place great downside pressure on Asian markets and currencies as capital seeks a home in high-yielding assets such as U.S. bonds and the U.S. Dollar.
Sources: Reuters, TradingView