The EURJPY currency pair gained 100 basis points in the prior week as the Yen gained on its safe-haven status. Driving the pair lower was mainly recessionary fears arising from the U.S. JOLTs Job Openings for March, which came in lower-than-expected and nearly 4% below the prior month reading.
Traders turned risk-off, leading to safe-haven assets, such as the Yen, enjoying a period of strengthening against risk assets. However, the Yen's strength was short-lived as the Euro has begun to claw back losses with traders' fears over a potential recession calming on the back of a higher-than-expected U.S. Labour Market Report.
Technical
The EURJPY currency pair has sustained its uptrend, with price trading well above its 100-day moving average. Support and resistance were formed at the 146.699 and 151.606 levels, respectively. A rejection from support is currently leading the pair higher, with bulls likely aiming for resistance t the 151.606 level.
If declining volumes accompany upside price action, it could indicate the weakening of bullish momentum and a stronger likelihood of the pair lowering. If bears find their way back into the market, the 146.699 level will likely be earmarked as a point of interest.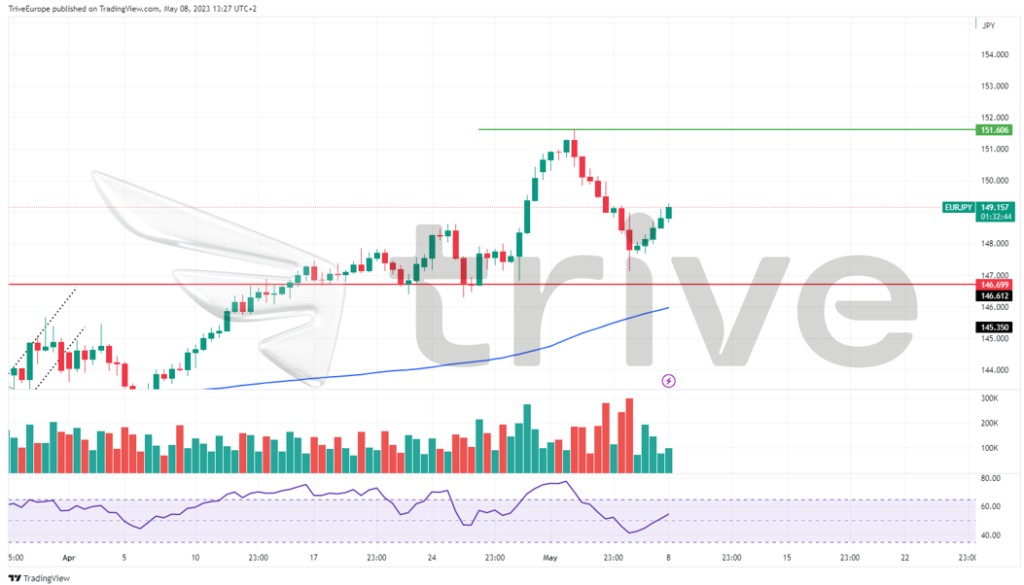 Summary
The EURJPY currency pair will likely be driven by Japan's Current Account release and German Inflation data, while China's Inflation and FDI Data drive sentiment within Asia. The 146.699 and 151.606 levels are the most likely interest levels in a bear and bull case, respectively.
Sources: U.S. Bureau of Labor Statistics, Reuters, TradingView