The FTSE100 (LSE: UKX) gained a percentage point in the prior week after two weeks of selling off, which lowered the index by 7.72%. The week opened with bulls in control as fears from the banking sector eased following the acquisition of Silicon Valley Bank's (SVB) loans and deposits by First Citizens BancShares.
Risk-on sentiment returned to the market, and bullish traders raised the index slightly. However, the upside was limited as the U.K.'s month-on-month inflation almost doubled to 1.1% for February, compared to consensus of 0.6%.
Technical
The FTSE 100 remains in a downtrend characterised by price trading well below the 100-day moving average in a descending channel pattern. Price action has recently stalled with minimal movement to close off Monday. Support is located at the 7211.85 level, following a rejection of the price level, while resistance currently stands at the 7575.42 level or the 50% Fibonacci Retracement level.
Due to the trend pointing south, bears will likely continue to drag the index lower after price action reached the descending channel pattern's resistance. Bears will probably aim for the 7211.85 level for take-profit if they commit to the downside.
Alternatively, a breakout above the descending channel pattern's resistance could signal the presence of bullish traders. Bulls could look to the 7575.42 level with interest if the index is led higher.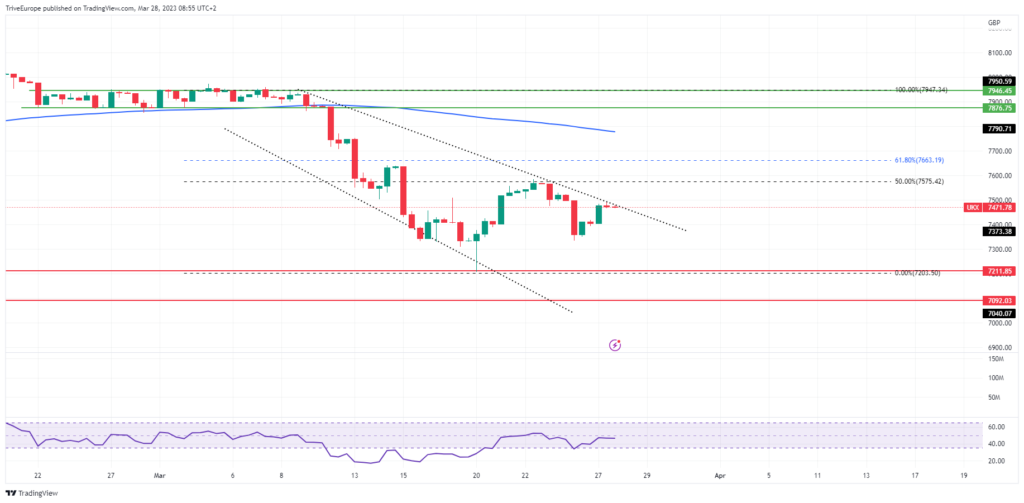 Summary
Optimistic traders will be cautious of engaging in the market as the FTSE100 could be weighed down by sticky inflation and further interest rate hikes. Stocks will likely experience dampened valuations as borrowing costs remain elevated while high prices chip away at consumer demand, affecting the top lines. The 7211.85 level is, therefore, probable, given the stunting effects of high inflation and interest rates.
Sources: Reuters, TradingView