After shooting for the sky, the EURJPY currency pair has come to a halt as the Yen regained momentum on the back of its safe haven status. The U.S. Federal Reserve opened the door to a possible rate pause in the upcoming June meeting, leading to a greater appetite for alternative safe haven assets.
All eyes will be on the European Central Bank (ECB) today, which is set to announce its interest rate decision. The markets are pricing in a 25 basis point rate hike, and traders will be eagerly waiting to determine whether the ECB follows through as expected or hikes even more.
Technical
The EURJPY currency pair has experienced a steep uptrend, with the price running away from its 100-day moving average. Support and resistance were established at the 148.398 and 151.606 levels, respectively.
Following a rejection of the resistance level, bearish traders subdued the pair and lowered it toward support. A leg down will likely be validated by price action breaking below the 148.398 level on high volumes as bearish momentum powers through with the 146.736 level in mind.
Alternatively, a rejection of the support level is probable if bulls enter the market on the back of an interest rate hike. The 151.006 level will likely interest bullish traders looking for upside gains.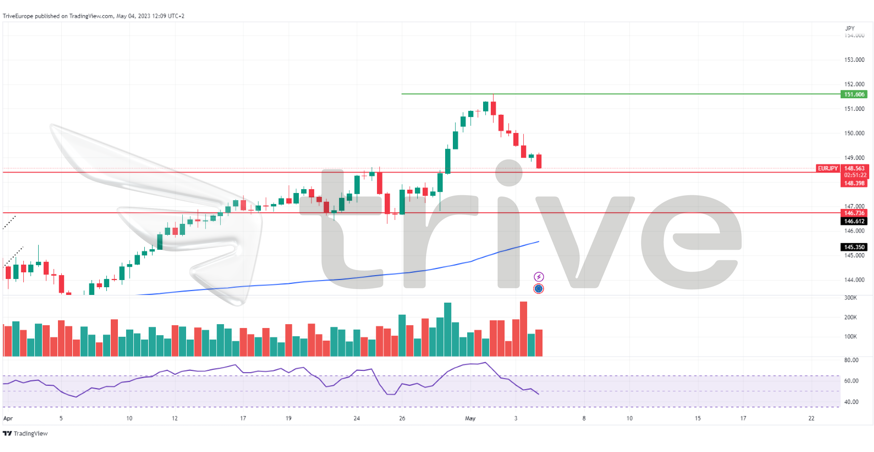 Summary
The anticipated ECB rate hike could provide tailwinds for the Euro as its higher-yielding capacity attracts more traders and investors into buy the currency. If traders pile into the market, the EURJPY currency pair will likely be magnetised to the 151.606 level. Alternatively, a breakdown below the 148.398 level could prompt a move lower.
Sources: Reuters, TradingView