The Euro has again shown its superiority against the Yen after the Bank of Japan maintained its negative interest rates. The pair gained 1.26% at its peak in the early hours of Friday's trading session, taking it to levels last seen in 2014.
The significant interest rate differential between the Bank of Japan (BoJ) and the European Central Bank (ECB) is primarily driving the pair higher. The ECB has had a long-standing commitment to fighting inflation and shows few signs of backing down on its rate hikes in the near term. The BoJ, on the other hand, maintained its interest rates at -0.1%, driving weakness in the Yen.
Technical
The EURJPY currency pair has trended higher, after breaking through price ceilings with ease, in its quest to reach 2014 highs. Support and resistance were established at the 146.736 and 148.398 levels, respectively. Following a high volume breakout above the 148.398 level, a new support was formed.
If bullish traders continue to drive sentiment, the 61.80% Fibonacci Extension Golden Ratio could come into play as a probable resistance level. However, if bearish traders emerge from hiding, a reversal from one of the Fibonacci Extension levels could be validated by declining volumes to the upside. Bears will likely look to the 148.398 level with interest if they commit to the downside in numbers.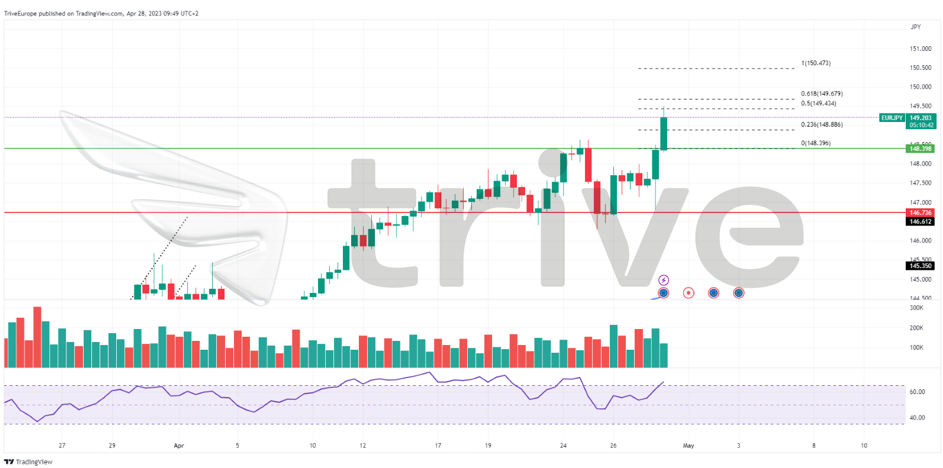 Summary
The Euro Area's GDP growth came in below consensus, while Germany's CPI data cooled off for the month, reflecting weakness in the European economy. Traders will look to today's U.S. PCE Index to determine their risk appetite. If the PCE Index comes in weaker than expected, in line with the downtrend in the U.S. economic activity, risk assets could find favour as expectations of consistent rate hikes by the Federal Reserve subside.
Sources: Reuters, TradingView