The NASDAQ 100 Futures (CME: NQ) were boosted for the second week in a row following the market's return to risk sentiment. The NASDAQ100 Futures gained 7.71% in the fortnight as the U.S. 10-Year Treasury Yield, seen as a proxy for borrowing costs, plunged to a 6-month low of 3.28%.
Boosting the index was hope restored in the banking sector after a buyout deal for Silicon Valley Bank (SVB), the second biggest bank failure since the Global Financial Crisis of 2008, was announced by First Citizens BancShares Inc.
Technical
The NASAQ100 Futures has been moving higher for two weeks in a row. Support and resistance were established at the 12530.00 and 13078.25 levels, respectively. The 61.80% Fibonacci Retracement Golden Ratio at the 12739.25 level plays a crucial role in defining market sentiment as it currently holds as a significant support level.
A high volume breakout below the 12739.25 Golden Ratio level could signal faltering bullish momentum and the beginning of a potential leg down. Bears will likely aim for the 12530.00 level if they commit to lowering the index.
Alternatively, the 12739.25 level could present a valid level of support to buy from if bullish traders keep the market above the level. Bulls will likely look to the 13078.25 level with interest as they look to extend the uptrend.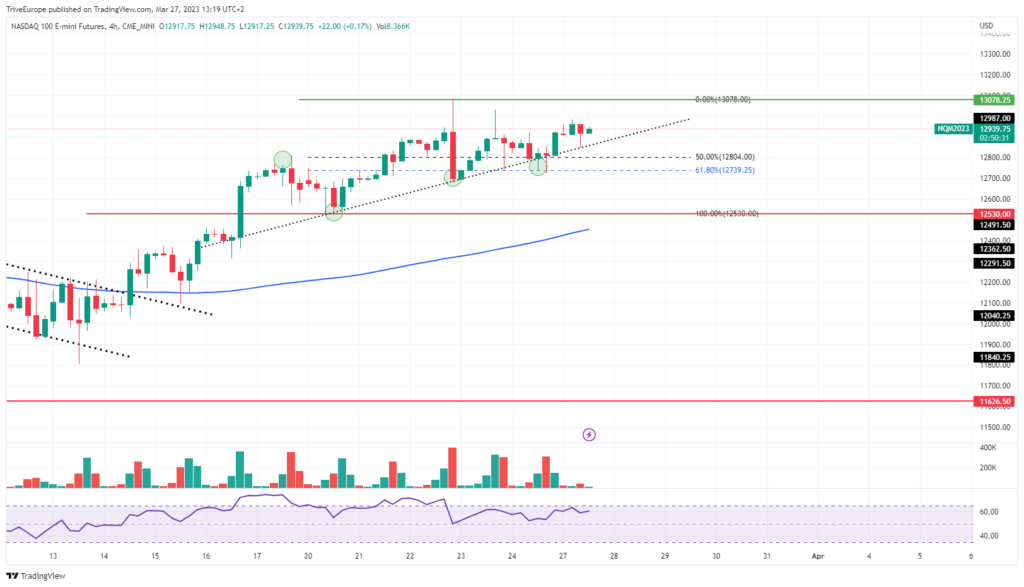 Summary
Traders will be keenly watching out for developments from the banking sector as it could provide short-term volatility. In addition, the U.S. PCE Index, the preferred gauge of inflation for the Federal Reserve, will be the most awaited moment of the week. If inflation tapers off, it could reinforce bets of a pause, which 74.5% of traders currently expect, according to the CME FedWatch Tool. The 13078.00 level is probable if inflation slows.
Sources: Reuters, CME FedWatch Tool, TradingView