The FTSE 100 (LSE: UKX) was flying high amid hopes that the global inflation story was easing and a pound that continued to weaken. It did not take long for its wings to get clipped by Bank of England hawk Catherine Mann, who signalled that more interest rate hikes might follow. Housebuilders also dropped the ball as the construction PMI figures indicated the sector's weakest performance in almost three years. Finally, with reigniting fears of US-China relations, the FTSE 100 futures fell along with the highly topical spy balloon.
With the index futures slipping lower, the focus turns towards the GDP figures to be released later this week for further direction.
Technical
A breakthrough through the all-time high earlier in the week pushed the futures to trade at levels way above the 50-day moving average. However, the RSI indicates that the overbought conditions may not hold, bringing some selling pressure back into the market. With the hawkish comments by the central bank, the pound may find some strength again. However, a stronger pound does not necessarily mean the index futures will fall, as a large part of the index comprises financial companies that enjoy higher margins in a high-interest rate environment. The focal point for this week will no doubt be the GDP announcement happening on Friday. We may see a consolidation in the price action until traders have a more unambiguous indication of the economy's direction. If GDP growth comes in lower than expected, recession fears may take over again, bringing downward pressure into the market. The level of focus, in that case, maybe at 7796,32, where the market previously resisted. A breakout below that could force further bearish pressure to bring the futures down to 7743,30. However, if the announcement beats expectations, upward pressure may assert itself. There may, however, be resistance at the lower highs of 7862,38.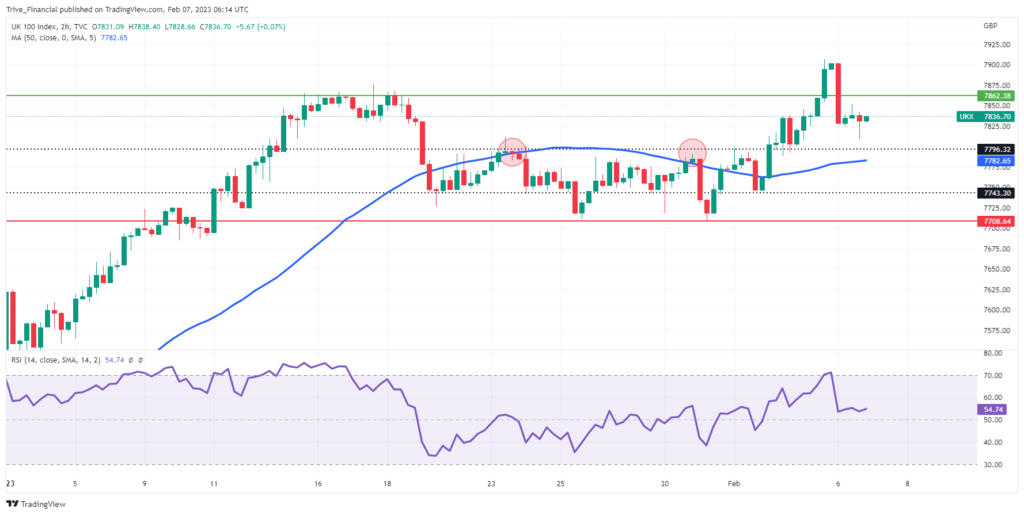 Summary
Some consolidation may be present in the price action for the week, with a possible directional movement following the GDP announcement on Friday. A potential long target price may occur at 7862,38, where a negative announcement may bring target prices of 7796,32 and 7743,30 into focus.
Sources: Koyfin, Tradingview, Yahoo Finance