Bullish traders pinned down bearish traders four weeks ago, leading to The Dow Jones 30 Futures (CME: YM) gaining 6.29% in the period, with 1.28% of the gains realised this week.
U.S. manufacturing and services activity cooled in the prior week, while inflation and the labour market followed suit. The cooling of the U.S. economy shows that the Federal Reserve's hawkish stance, which commenced over a year ago, has not been in vain. Traders are now wagering a 91.81% chance of the Federal Reserve easing on its hawkish stance by the end of the year, giving equity valuations exposure to the upside on the possibility of lower borrowing costs to come.
Technical
On the H4 chart, the Dow-Jones 30 Futures left its 100-day moving average in the dust as it rallied past the former resistance level at the 33495 level, now acting as support. Price action stopped shy of its year-to-date high, established in February, with a resistance of 34341.
With volumes on the downturn, forming a consolidation within a rectangle pattern, bulls and bears could be battling for supremacy.
Given that the market is pointing higher, backed by fundamental aspects, price action could be directed northward with bulls in firm control. Bulls will likely look to the 34341 level with interest as they attempt to establish a new yearly high above it. A breakout above the consolidation pattern on high volumes could validate the move.
On the other hand, a breakout below the consolidation pattern on high volumes could signal the victory of bears and a probable leg down, with the 33495 level earmarked as a level of interest.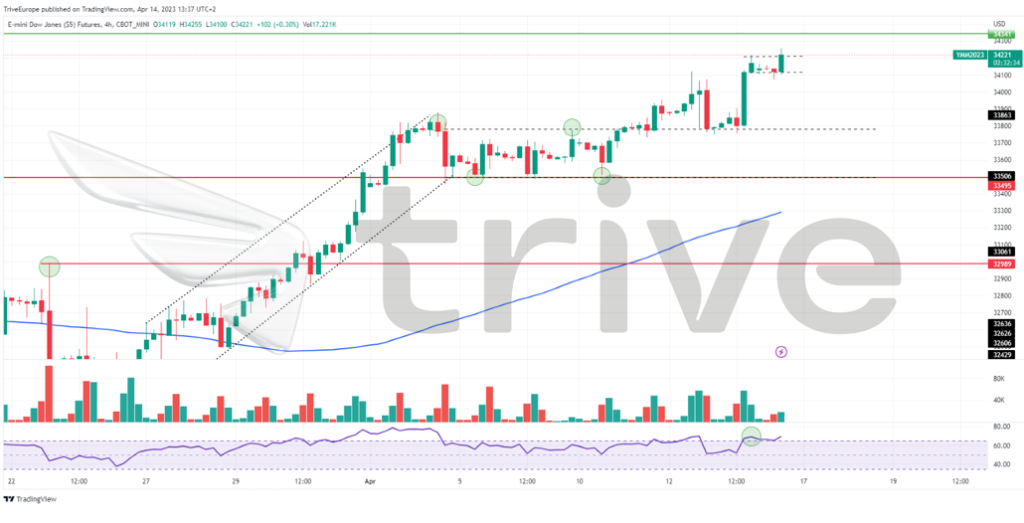 Summary
To conclude with Retail Sales and Financial Services Earnings reports as the highlight of the day. Traders will look for signs of weakness in line with the U.S. manufacturing, services, labour market and inflation downtrend. If retail sales point lower, the Dow Jones 30 Futures could be exposed to the upside as lower consumer spending prompts a Fed rate pause, making the 34341 level probable. However, the index could be weighed down by weaker earnings in the financial services companies, with some of the biggest global banks set to release their quarterly results.
Sources: CNBC, TradingView