OPEC's Secretary General revealed that the group expects oil demand to rise to pre-pandemic levels following a resurgence in China's oil demand. According to Reuters, more OPEC officials believe crude oil prices will likely advance toward the $100 per barrel mark as output remains constant while demand continues its upward trajectory.
Technical
WTI Crude Oil futures (NYMEX: CL) uptrend has recently seen bullish momentum tapering off, represented by declining volumes and weaker up moves. China's demand surge following a relaxation of Covid-19 restrictions led to a bullish wave in price action.
Support and resistance formed at the $78.68 and $80.33 per barrel levels (BLL), respectively. Traders will monitor today's US Inflation data for guidance on the Federal Reserve's most likely policy direction.
Higher inflation levels will likely create more room for the downside as interest rate hikes and a potential recession manifest. A breakout below the $78.68 BLL level on high volumes is probable, with the $77.41 BLL a level of interest for bears.
Alternatively, bulls will likely drive prices toward the upside if inflation comes in lower than expected, with the $80.33 level a pivotal point to watch.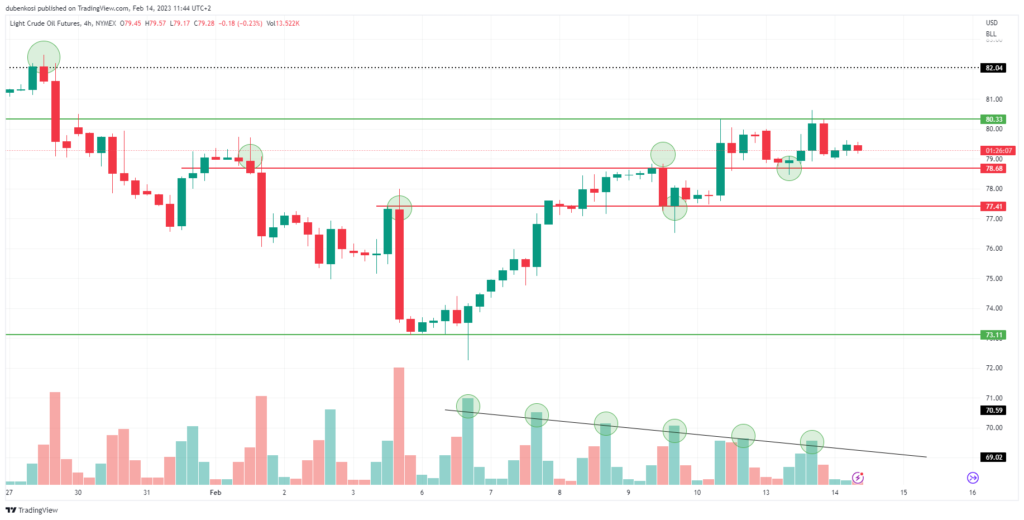 Summary
A subdued global economy has an adverse effect on oil demand. Should US Inflation data come hotter than expected, the fight against inflation will likely see the Federal Reserve lift interest rates, creating downside odds.
Sources: Reuters, TradingView