The Bank of Japan recently announced a new governor, forcing the market to speculate on the direction of his policy viewings. This blind speculation fuelled the fire caused by low economic growth statistics and pushed the Nikkei Futures (CME: NIY) down to cancel its early gains on Tuesday.
The Nikkei futures started trading on Tuesday positively, but with the release of 0,6% annualised GDP growth compared to the 2% expectation, markets began turning red. A surprise appointment of Kazuo Ueda as the new BoJ governor sent the market into a frenzy as uncertainty surrounds his views on future monetary policy. More hawkish comments by the US Fed officials after higher-than-expected CPI statistics on Tuesday also weighed on the market sentiment, adding to the downward pressure.
Technical
The recent contraction pushed the futures back down below its 50-day moving average. However, there is still some clear consolidation between 27340 and 27800 and the RSI further signals this, with the futures neither in overbought nor oversold conditions. With a positive outlook still surrounding the Japanese economy and its growth prospects and a loose monetary policy supporting growth, the bulls could prevent the bears from gaining momentum. The futures can potentially retest the 27800 resistance as the market digests the recent information and stabilises again. A breakout through 27800 resistance could provide the momentum needed to push further up to 27940. However, if bearish pressure remains and the 27340 support does not hold, further downward pressure to 27130 and 26820 is possible.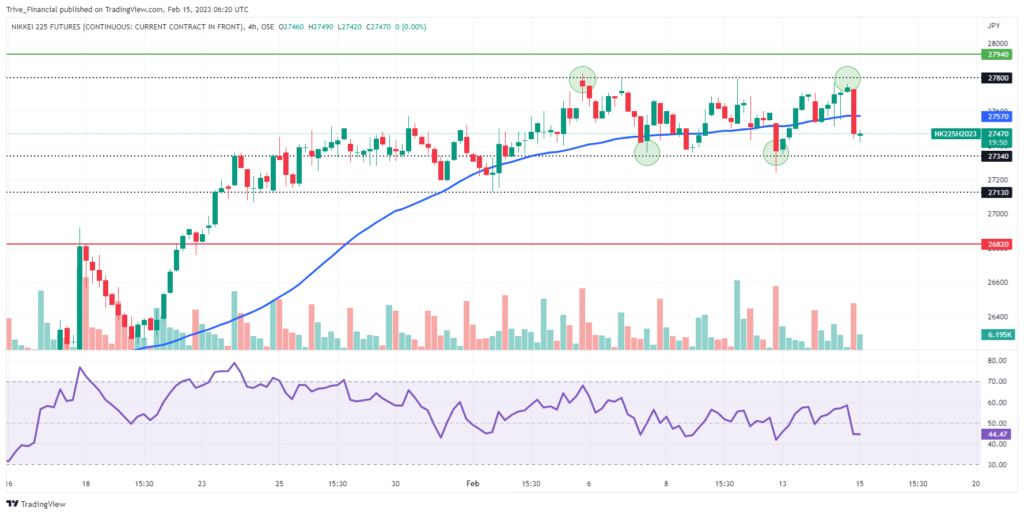 Summary
The optimism around the broader Asian market was reflected in the Japanese futures with an early January rally. However, caution has crept in, and the futures are now consolidating. It is possible for the futures to keep trading between support at 27340 and 27800. However, a breakout to the upside could spark some momentum for the bulls to push up to 27940 if economic fundamentals hold strong.
Sources: Tradingview, Koyfin, Reuters