After slipping below its recent high on Friday, the FTSE 100 futures (TVC: UKX) recovered to close Monday trading on new historical highs. Bolstered by renewed hope of a shallower recession and moderating inflationary pressures, confidence re-entered the market's sentiment in the outlook for the UK economy going forward. With unemployment statistics looming, this confidence could either get confirmed or squandered when the market opens on Tuesday.
The European Commission's recent winter economic forecast also boosted European equity indices higher after forecasting that the eurozone may slip a technical recession. A revised growth forecast of 0,9% for 2023 provided some upward momentum, pushing the FTSE 100 up 0,83%. Lower oil and gas prices continue to weigh on the energy sector performance, which makes up close to 10% of the index. However, outperformance in industrials (12%) and consumer staples (18%) more than offsets the energy sector strain. Now, trading at new highs, UK unemployment statistics that will be released pre-market may drive sentiment through the roof in one direction or another in what may be a crucial moment for the index futures performance.
Technical
The recent upswing in the futures has formed a rising wedge pattern. Bullish momentum is holding for the time being, with the futures trading at levels far above the 50-day moving average. The unemployment statistics, however, can change the outlook for the UK economy as we advance in what could force directional price action. If unemployment remains steady at 3,7% to meet consensus, a push-up to test the upper level of the wedge at around 7980,45 is possible, where it may meet resistance. A breakout above could signal more upside to remain in the futures already trading at historical highs. A tight labour market may also strengthen the pound, which could cap the upside for equities. If unemployment comes out higher than expected, recession fears may take over sentiment again and push the futures lower. This would bring the lower level of the wedge at 7873,15 into focus. A breakout below the support could trigger downside movement to seek lower support at 7810,55.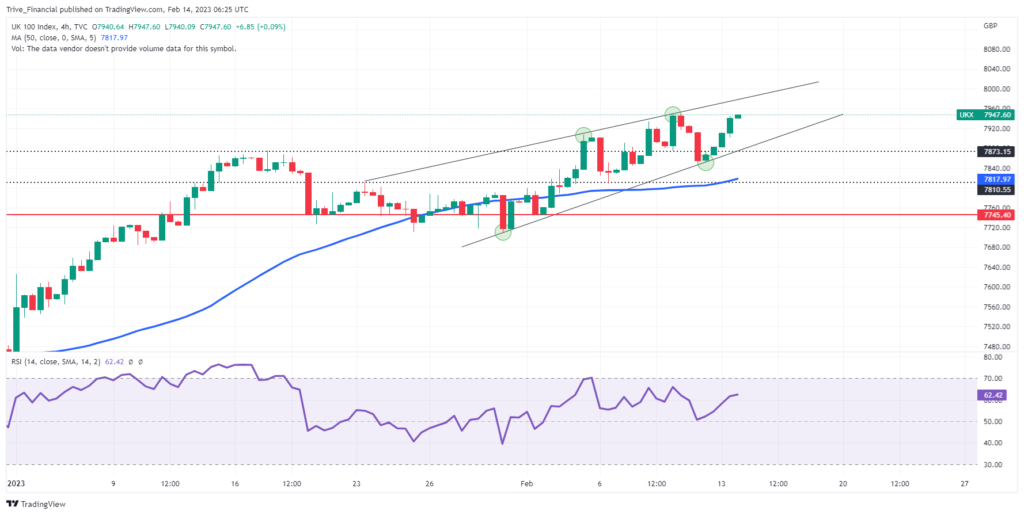 Summary
The UK unemployment statistics may be a key driver for the index futures in the next trading day. If statistics are perceived as positive, the futures could test at 7980,45, whereas negative statistics could force some downside pressure to look for support at 7873,15 and 7810,55.
Sources: Koyfin, Tradingview, London Stock Exchange