Following the U.K.'s double-digit inflation reading and near-full expectations of a 25 basis point rate hike by the Bank of England (BOE), the Pound's strength was short-lived as a strong Euro undid its gains.
The EURGBP currency pair recommenced its uptrend and is on track to close a second consecutive day in the green. The Euro's strength has been revitalised by a higher-than-expected Composite PMI reading which landed on the 54.4 mark, above the consensus of 53.7, restoring expectations of an inevitable rate hike by the European Central Bank.
Technical
The EURGBP currency pair rejected support at the 0.87307 level as bulls stepped in to take the pair higher. The 100-day moving average was left behind as bulls aimed for resistance at the 0.88595 level in their attempt to find an uptrend.
Following a reversal from resistance, the EURGBP found support at the 50% Fibonacci Retracement level at the 0.87962 level before rejecting it to move higher. With bearish traders on the back foot, the 0.88595 level was approached by bulls with conviction. If a breakout above the level ensues on high volumes, bulls could look to the 0.89205 level as the next probable level of interest.
Alternatively, With RSI conditions pointing to overbought levels, a reversal is probable. Bears will likely look to the 50% Fibonacci Retracement level with interest if they pile into the market.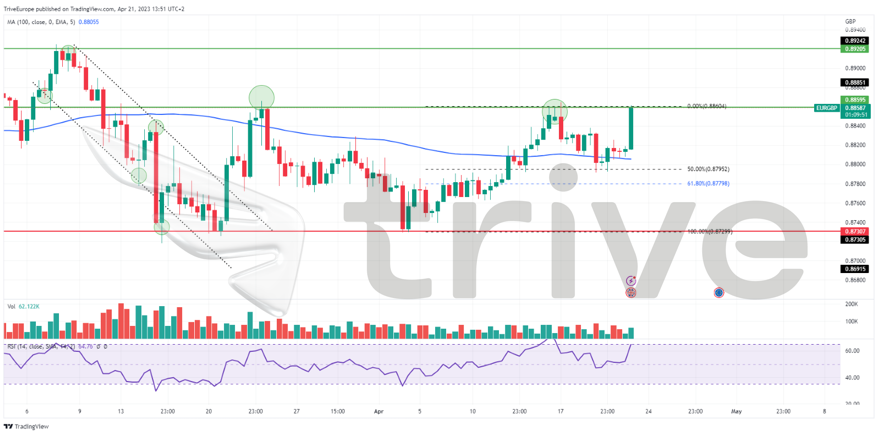 Summary
The EURGBP currency pair has been rangebound between the 0.87307 and 0.88595 levels since the latter part of last month. Both levels have been respected with strong reactions, sending prices in the opposite direction when approached. Traders will likely monitor the level closely as they look for reversal opportunities, while a breakout to either side could redefine market sentiment.
Sources: Reuters, Koyfin, TradingView