The Nasdaq and S&P500 rallied up in Thursday trading, bolstered by lucrative earnings from Meta and the Fed signalling that rate hikes may subside. The Dow Jones failed to follow as Merck and UnitedHealth reported disappointing earnings, causing the Dow to retreat slightly on the Thursday close.
Friday will prove to be a momentous day in the US equity market, as earnings from Apple, Alphabet and Amazon will drive the indices along with new data on the US economy in the form of unemployment statistics and the much-anticipated non-farm payrolls report. 
Technical
With Apple disappointing in their latest earnings result, the earning miss is possibly trickling down into the market, potentially pushing the Dow Jones index futures lower. However, the economic data to be released later today will likely overshadow this movement if traders keep a close eye on it. With the Fed giving signals that interest rate hikes might subside, the non-farm payroll and unemployment statistics will provide traders with a further indication of whether that is a reality. Higher NFP numbers with lower unemployment might indicate that inflation is not yet moderating at the pace the Fed would view as ideal.
On the other hand, lower NFP numbers and higher unemployment statistics might reopen recessionary concerns. Therefore, statistics that the market will view as favourable to the economy's general health could push the index futures up, bringing the first potential target level of 34212 into focus. A breakout above that level would shift focus to the 34491 estimated resistance level. On the other hand, disappointing unemployment and NFP statistics might push the index futures down, binging support at 33834 into play. A breakout below that level would shift focus to the downside estimated target level of 33611.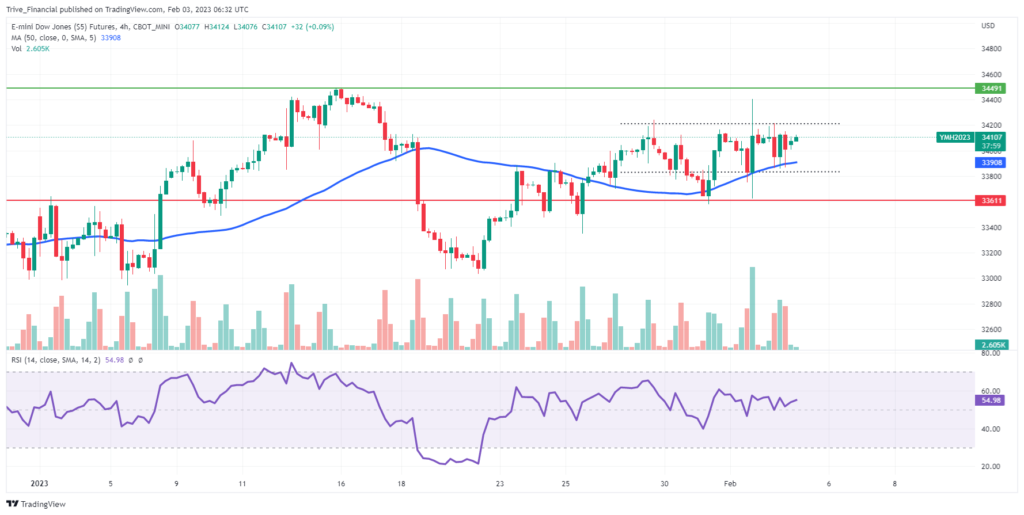 Summary 
All eyes are on the NFP report and the US unemployment statistics to be released later today. Statistics perceived negatively by the market could open up a potential short opportunity, with a first estimated target price of 33834. News perceived as positive by the market could open up a possible long entry with a first estimated target price of 34212.
Sources: Koyfin, TradingView