The FTSE 100 (LSE: UKX) has officially recovered all the losses induced by the Banking Sector crisis, and traders are now looking at where to go next.
The U.K.'s inflation hung on at double-digit levels spiking expectations of the Bank of England raising interest rates in response. The FTSE100 stayed flat in the prior week, near the March highs as it absorbed all the expectations. With the U.K. having a relatively quiet economic calendar this week, heavyweight earnings could determine where the index goes next.
Technical
The FTSE100 approached a resistance level set prior to the banking sector crisis at the 7947.00 psychological level. Bullish momentum subsided, with the RSI conditions flattening as the price moved into a sideways consolidation forming a rectangle pattern. Support is currently at the 100-day moving average set out at 7790.71.
With bears now in contention, the bullish rally is under threat of losing out. A breakout to either side of the rectangle pattern will likely signal the end of the tug of war, with either the bears or bulls taking control. Bears will likely look to the 7790.71 level with interest if a breakdown below the consolidation pattern occurs. In contrast, bulls will look to take a shot through the roof if a breakout above the pattern and resistance at 7947.00 ensues, leaving the 8046.78 level probable.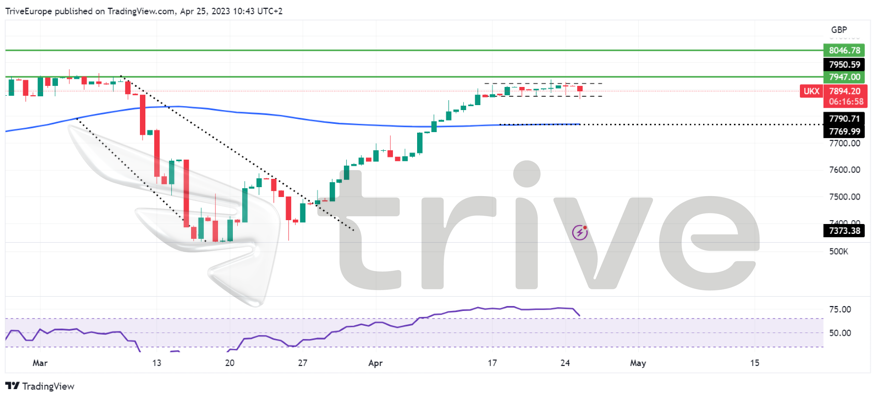 Summary
With big names set to release earnings in the U.K., let alone the U.S., the FTSE100 is likely to move in the direction of earnings results. Should earnings come out positive on average, the FTSE100 could find momentum for the upside, while the contrary could see the 7790.71 level as a high possibility.
Sources: Reuters, TradingView