After opening the week on a positive note, the EURUSD currency pair retreated 12 basis points in Tuesday's trading session as year-on-year U.S. Retail Sales and Industrial production picked up steam.
Probabilities of a Fed rate hike in the upcoming meeting are up 16.4% from a week ago, although still minuscule to the likelihood of a pause, the Greenback gained slightly as the U.S. economy showed some resilience. The market has been relatively quiet as volatility has taken a few days off ahead of the Euro Area CPI, US labour market reports and the highly anticipated speech by Fed Chair Powell to conclude the week.
Technical
The EURUSD currency pair has stayed within its boundaries with support and resistance of 1.08292 and 1.09094, respectively. Price action is well-below its 100-day moving average, indicating that the downtrend is still in progress within a descending channel pattern.
With the price trading midway through support and resistance, bulls and bears will be in contention to take the pair in one direction, with fundamentals supporting the move. Bulls will likely aim for the 1.09094 level if the U.S. market resembles weakness or if inflation picks up in Europe. Alternatively, the 1.08292 level will probably be earmarked by bears as a point of interest if the U.S. market supports a bullish Greenback.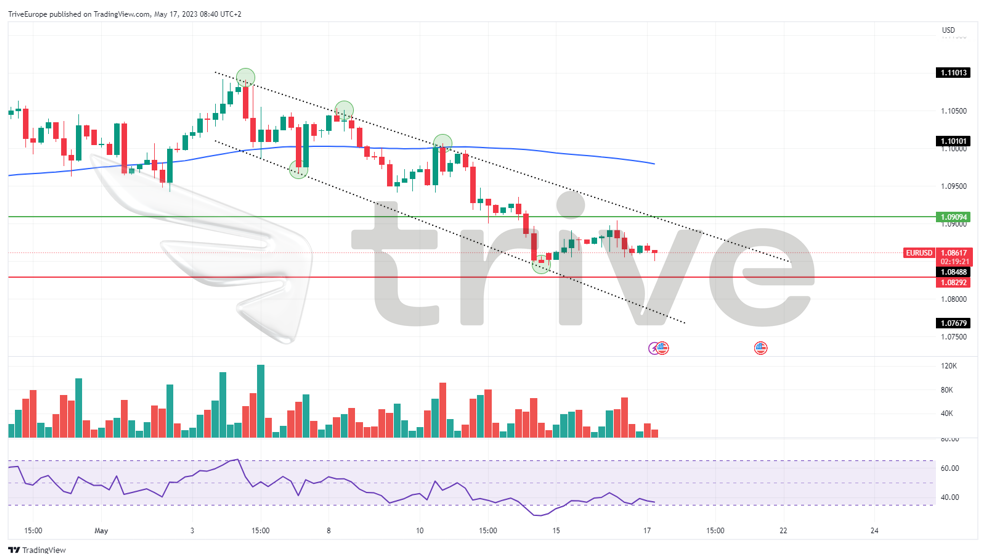 Summary
Traders are wagering an 83.2% chance of the Federal Reserve pausing rates in the upcoming decision. This notion has been supported by a moderating U.S. economy and fears of a hard landing if rates are continuously hiked. Across the Atlantic, the European Central Bank's inflation is expected to reach 7% in April, which puts its inflation just over 200 basis points higher than the U.S'. The ECB will likely continue to hike rates to reel in inflation toward the 2% target, while the Federal Reserve has less work to do to reach the same target. The Euro will likely be supported, making the 1.09094 level probable.
Sources: Eurostat, Reuters, TradingView