IBEX 35 traders (BME: IBC) sent the index on a slippery slope following a 2% decline from Wednesday's highs. Higher inflation readings in Germany and France added insult to injury as it was a precursor to the already excessive Euro Area inflation.
Traders will likely look to the Euro Area Inflation for their next move. Following a hotter-than-expected inflation reading, the European Central Bank will likely hike rates aggressively to tame inflation. The IBEX 35 bulls might find it difficult to stage a rally if inflation continues to weigh down on the index.
Technical
IBEX 35's uptrend established support at the 9116.09 level following a strong bullish drive-up. The uptrend was slightly undone by a rejection of resistance at the 9449.01 level. Bears drove the index toward the 61.80% Fibonacci Retracement Golden ratio (9243.55 level) from overbought RSI levels.
Bullish traders will look to the golden ratio for opportunities to go long, with the next probable point of interest being the 9370.45 level. Alternatively, if bears are drawn into the market, price will likely reverse towards the Golden Ratio, with a breakdown below validating a potential leg down towards the 9116.09 level.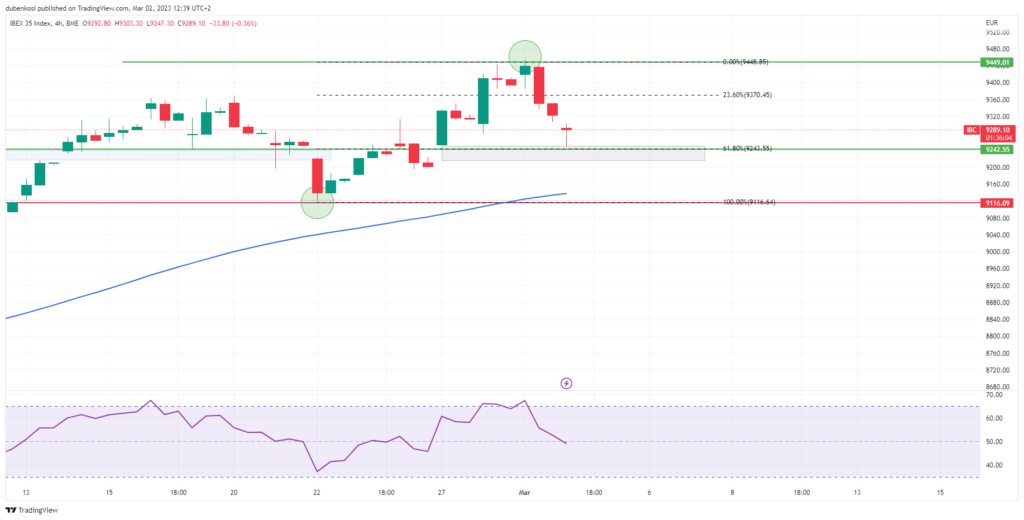 Summary
The Euro Area core inflation came in hotter than expected, with Year-on-Year inflation rising to 5.6% compared with 5.3% a year prior. Further rate hikes by the European Central Banks could harm the index as company valuations deteriorate. The Golden ratio will be pivotal in defining the overall market sentiment.
Sources: Bayerisches Landesamt für Statistik, INSEE France, National Statistics Institute (INE), EUROSTAT, TradingView