The most liquid currency pair, the EURUSD, has recently ping-ponged between bulls and bears as they have yet to take the impetus to drive price in one direction.
The U.S. and European Union are currently in similar positions with high inflation levels and a solid commitment to fight it. As a result, EURUSD has found itself in the middle ground of the battle.
Technicals
EURUSD has consolidated sideways in a wide range represented by a rectangle pattern. Support and resistance are firmly at the 1.06670 and 1.07904 levels, respectively. Trading volumes within the range have been significantly low as bulls and bears contend for superiority.
Since support and resistance are firmly in place, traders will look to both levels for opportunities. A bounce from support took place on Wednesday, supported by oversold RSI conditions. Bulls will likely look to resistance at the 1.07904 level for price to approach before reconsidering their positioning within the market.
Bears will be more interested in participating at the 1.06670 support level if price approaches it on declining volumes.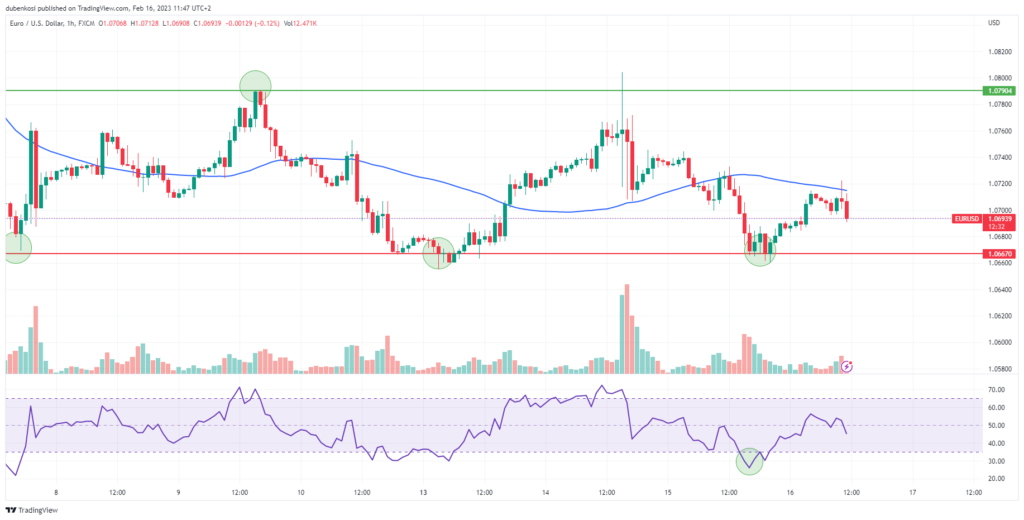 Summary
A breakout to the upside or downside of the pattern could confirm further movement in that direction. In the meantime, traders will be happy to work within the given range before any breakouts occur.
Sources: Reuters, TradingView