Nikkei 225 Futures (CME: NIY) leaped 0.90% post the Fed Reserve Chair's speech on Tuesday. US Jobs data came in hotter than expected and restored anticipation of further tightening by the Federal Reserve and other central banks fighting inflation. Jerome Powell confirmed that the US would continue its restrictive path but noted that disinflation was making headway, a positive for the Nikkei 225.
Technicals
Nikkei 225 Futures have been trending upwards, driven mainly by negative interest rates maintained by the Bank of Japan and growing sentiment of the dovish policy becoming a central theme in response to easing inflation at the onset of 2023.
A resistance formed at the 22780 level, while a breakout above the 27450 level formed as support. Price action bounced off support as bullish traders weighed in on Jerome Powell's speech. Bullish activity currently seems to be in control of the market, and a likely target at the 22780 level is probable.
Bears are more likely to enter the market at the highs or the 27780 level; however, should bearish momentum begin picking up at current levels, the price is expected to be drawn towards support at the 27450 level.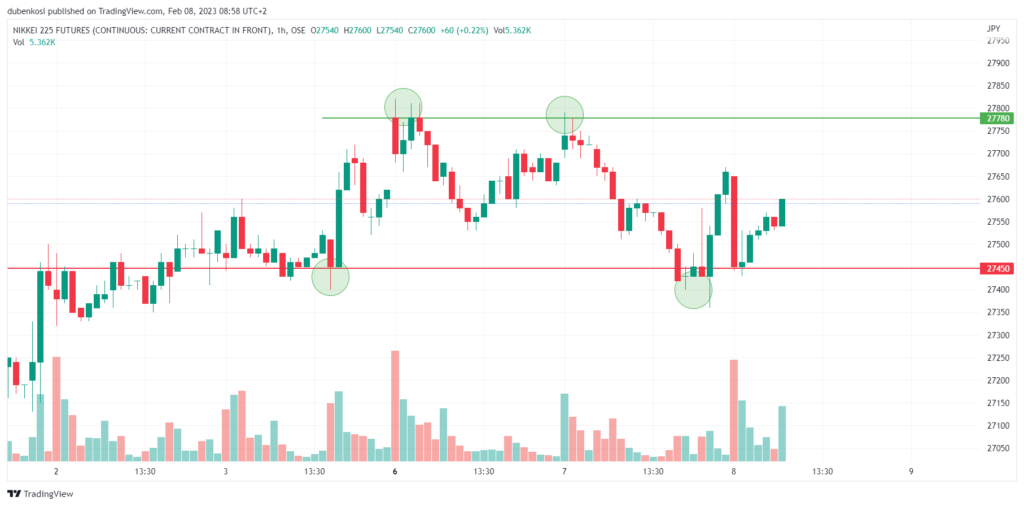 Summary
The Bank of Japan maintained its interest rate guidance at negative rates, providing tailwinds for highly leveraged Nikkei 225 corporations. Therefore, Nikkei 225's outlook is positive, given Japan's low-interest rate environment and will likely be supported by a disinflationary global climate in the near future.
Sources: Reuters, TradingView