The EURUSD currency pair attempted to regain some of Monday's losses in Tuesday's trading session. The greenback lost out on moderately weaker building permits that missed the consensus mark by a mere 2.6%.
Traders will focus on today's Euro Area CPI and Inflation data, along with U.S. Labour market reports and global PMI due in the following days, as the battle between the currencies persists closer to the one-year-high mark.
Technical
The EURUSD currency pair has maintained its uptrend at the week open, with price trading within the ascending channel pattern and well above the 100-day moving average. Support and resistance were printed at the 1.08330 and 1.10724 levels, marking up the trendline support and resistance of the ascending channel pattern.
Volumes have declined ahead of key economic data as traders anticipate the next move of each central bank. With price trading at the ascending channel's support, a reversal is likely, given that downside volumes diminished. Bullish traders could be preparing to take the pair towards resistance at the 1.10724 level if volumes pick up steam to the upside.
Alternatively, a high volume breakout below the patterns support could indicate a build-up of downside momentum and a strong likelihood of the pair moving lower toward support at the 1.08330 level.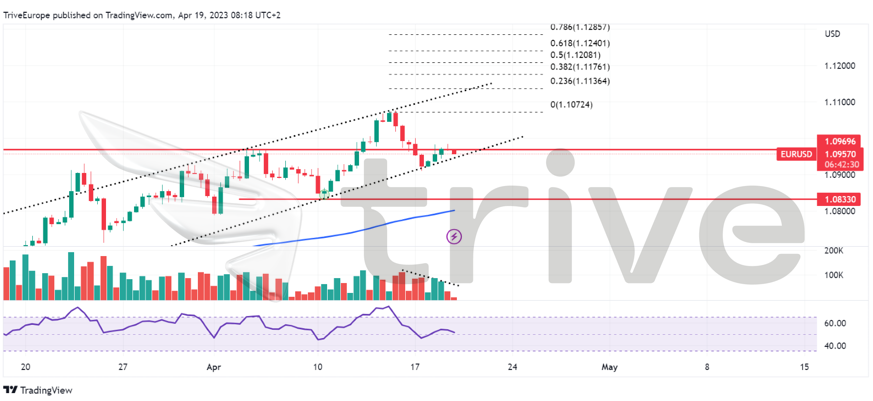 Summary
With key economic data ahead, price action will likely consolidate as traders look for clear signals about where to take the pair next. If Euro Area CPI proves sticky, chances are sky high that the European Central Bank will implement a jumbo-sized 50 basis point rate hike to bring inflation within the 2% target, making the 1.10724 level probable in this scenario.
Sources: Reuters, TradingView