The Euro lost ground against the pound in Wednesday's trading as contagion from the U.S. Banking sector crisis filtered through into Europe, with the second biggest bank in Switzerland, Credit Suisse falling victim. The bank shed 30% of its share price at one point during the day before recovering some of the losses to close the day with a 14% loss.
Risk assets suffered, with the EURGBP currency pair declining 0.61% for the day as the Euro weakened on high exposure to Credit Suisse's risk. The European Central Bank (ECB) interest rate later today will be an all-or-nothing event for the ECB as it battles high inflation and the banking sector crisis. With a 50 basis point rate hike baked into expectations, the Euro could be boosted in the short term if 50 basis points is actualised. However, more significant risks will be placed on the banking sector, which deals with loss-making fixed-income portfolios due to higher interest rates.
Technical
The EURGBP has traded downwards within a wide descending channel pattern, with support and resistance currently at the 0.87345 and 0.88369 levels, respectively.
The EURGBP approached the dynamic support of the descending channel pattern before rejecting it and moving higher. Bulls will look to the 0.88369 level with interest if they sustain a drive upwards following the rejection of the dynamic support.
Alternatively, bearish traders will look to the 0.87345 level as a take-profit level if the pair moves to the upside on declining volumes, indicating exhaustion of bullish momentum.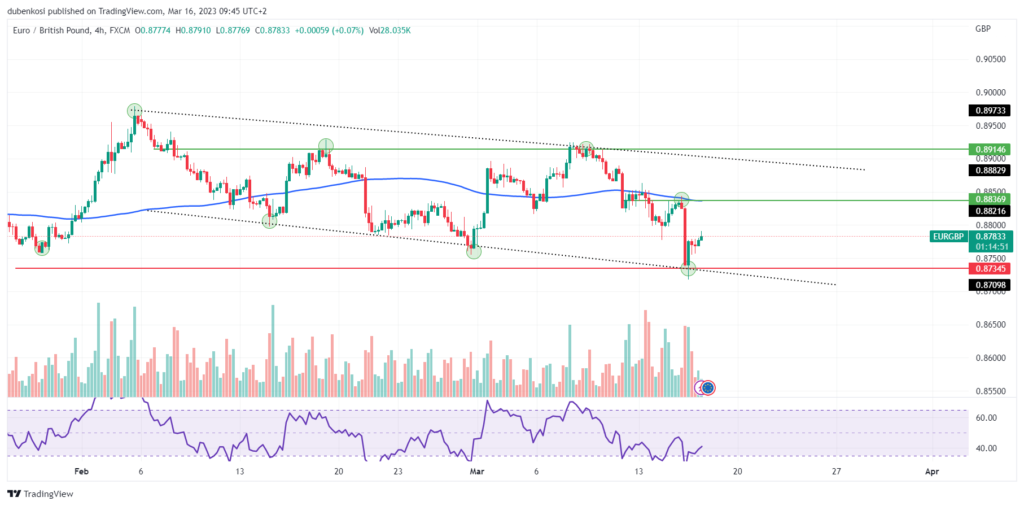 Summary
According to Reuters, bets on a 25 basis point rate hike by the ECB have become prominent as the ECB now battles a catch-22 situation. Higher interest rates are needed to bring Euro inflation back within target, while additional risks will likely emerge from the Banking Sector in the high-interest environment. Traders will focus on the interest rate decision later today as they gauge the ECB's priorities.
Sources: Reuters, TradingView, Koyfin