The FTSE 100 (LSE: UKX) has bounced between bulls and bears as neither side has gained enough traction to take the index in one direction.
Despite risk assets losing out following a firm hawkish stance by the Federal Reserve Chair, Jerome Powell, the FTSE 100 has remained steady within its range as sellers have not yet undone buyers of the index. Aggressive interest rate hikes will likely threaten equity valuations, which inflate borrowing costs and limit growth prospects.
Technical
FTSE 100 price action has consolidated in a sideways pattern, forming a rectangle pattern. Support and resistance were established at the 7876.75 and 7946.45 levels, respectively.
The typical support and resistance dynamics could probably play out if the consolidation range extends. Bulls will look to buy at support, while bears look to sell at resistance.
Alternatively, if the consolidation range fails to hold, a breakout in either direction of the range could validate price action in the direction of the breakout. If a breakout below the support level occurs, bears will likely target the 7807.62 level, while bulls will look to the 8043.79 level with interest.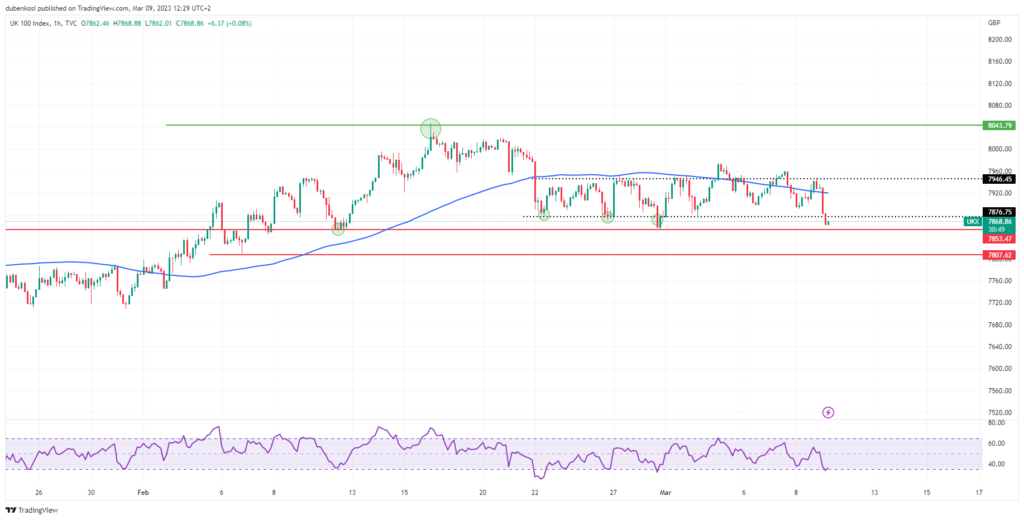 Summary
On his second day of the Testimony, Jerome Powell reiterated that strong economic data would drive aggressive interest rate hikes. For the remainder of the week, traders will set their eyes on the U.S. Labour Market reports for signs of inflation's evolution. If the Labour Market proves resilient, it will likely prompt an aggressive rate hike to the dismay of equity bulls.
Sources: Reuters, TradingView