Inflationary pressures have weighed down on the Dow Jones 30 Futures (CBOT: YM) following a 3.06% selloff in the index last week. The PCE Index, which came in higher-than-expected last week, put the final nail in the coffin as hawkish traders rushed to sell the index.
Traders will look to the U.S. Purchasing Managers Index for signs of the Federal Reserve's likely next step. If the U.S. economy shows signs of strength, it could lead to further rate hikes that will likely dampen the Dow Jones 30 Futures.
Technical
The Dow Jones 30 futures has steadily trended downwards, forming a descending triangle in the process. Support and resistance were established at the 32796 and 33180 levels, respectively.
Following a bounce from support, price is heading upward. Bullish traders may look to the 33050 level or the Fibonacci Retracement Golden Ratio of 61.80% as a take-profit level if the bullish run sustains.
Alternatively, bears will be eager to continue on their run, with a potential level of interest being the 32796 level. If price moves higher on lower volumes, it could potentially signal the weakening of demand and the preparation of bearish traders entering the market.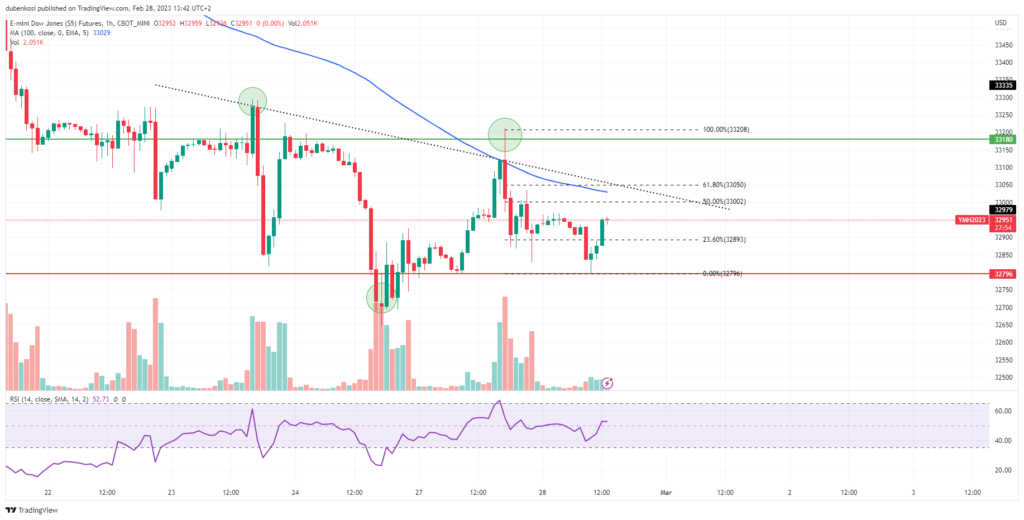 Summary
The 33050 level will be pivotal as a breakout above the level could signal the presence of bullish traders in the market. However, if price fails to break through the level, it will likely signal bears returning to the market.
Sources: Reuters, TradingView