Occidental Petroleum Corporation (ISIN: US6745991058) shed 3.81% after posting weak quarterly results, primarily driven by energy prices falling from their peak in 2022 and lower crude oil volumes. Earnings missed consensus by 12.30% to close off the quarter at $1.09 per share, while revenue landed on $7.23B, missing Wall Street expectations by 3.15%.
Despite posting downbeat quarterly earnings, the company upgraded its full-year guidance. Expansion efforts have validated the potential of a more robust operational performance through increased oil and Gas production.
With the U.S. and Chinese economies showing signs of cooling, worries of a potential recession have rocked the markets in the past few weeks. If a mild recession materialises, it could have knock-on effects on energy demand, weighing on Occidental Petroleum's future cash flows. Will Occidental Petroleum's share price continue its strong bullish run from 2022, or is the sun setting on the stock?
Technical
Occidental Petroleum's share price has recently found a top, with price taking a downturn structurally. Despite the price not having crossed below the 100-day moving average, a downtrend seems to be forming as the share price produces lower highs. Support and resistance were established at the $56.53 and $67.50 per share levels, respectively.
The recent shift in the market structure has formed a descending triangle pattern, characterised by a flat base with lower highs suggesting that sellers are more aggressive than buyers at the present moment.
A further leg down is probable if the share price breaks below the support level of the descending channel pattern on high volumes. Bullish investors will likely eyeball the 50% and 61% Fibonacci Retracement levels as the most likely entry points for a long opportunity. If the share price approaches either level on declining volume, it could indicate weakening bearish momentum with a reversal imminent, thereby validating a potential long opportunity. The $56.53 level will likely be earmarked as a point of interest if a deep retracement occurs. Alternatively, a textbook reversal from support will likely play out if investors respect the $56.53 level as support. Bullish investors will probably eye the $67.50 level as they look to take profits in this scenario.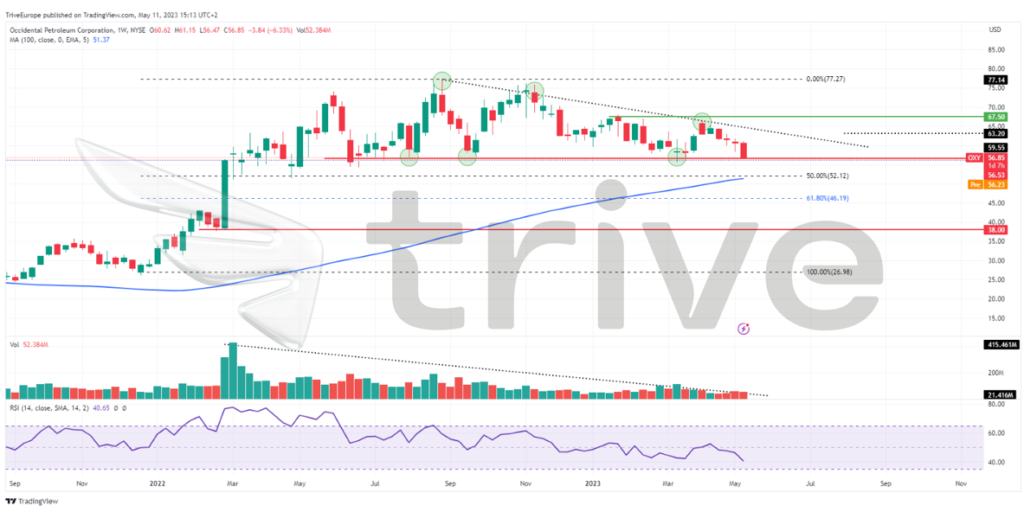 Fundamental
Revenues from the Oil and Gas international business segment increased 17% from the quarter a year ago but were not enough to offset the decline in revenues from the domestic business. Revenues in the domestic segment declined significantly, subsequently lowering the Total Oil and Gas revenues by 12%. In addition, the chemicals segment shed nearly 17% of its revenues from the quarter a year ago. The decline in energy prices was the leading cause of the deterioration of the top-line year-on-year.
Occidental Petroleum's crude oil sold for 19% less than in the first quarter of 2022, averaging $74.22 per barrel. Driven by growing concerns about the global economy's health, Brent crude oil prices are trading 20% lower in the quarter than a year ago. This resulted in a 48% drop in adjusted income from a year ago to $1.1B, further weighed down by accelerated investments and shareholder returns.
However, it is not all doom and gloom as the company improved its outlook for the remainder of the year. Occidental raised its year-end production outlook by 20,000 barrels of oil and gas to 1.22 million barrels per day. The upbeat forecast was supported by positive feedback in production on the back of more robust capital spending, which nearly doubled to $1.5B from the same period a year ago. Oil and gas daily output increased to 1.22 million barrels from 1.08 million a year ago, helped by larger production from its Permian operations.
After discounting for future cash flows, a fair value of $63.20 per share was derived. The fair value stands at a 12.18% premium to the fair value, leaving room for some gains.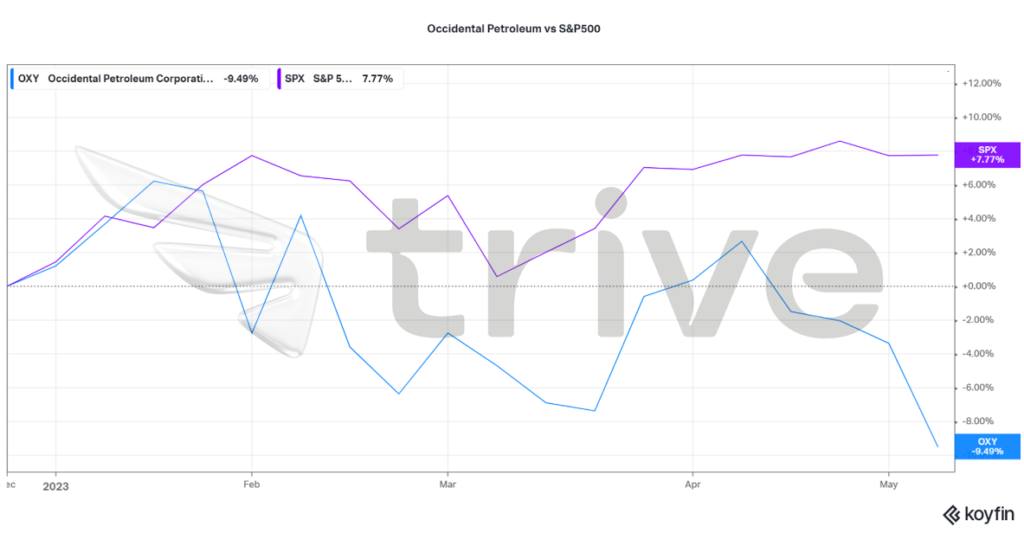 Occidental Petroleum's share price has underperformed the broader market, represented by the S&P500. Weaker earnings and fears of a potential recession applied downward pressure on the stock, lowering it by 9.49% year-to-date.
Within the S&P500 Energy sector of companies with a market capitalisation between $50B and $100B, Occidental Petroleum is one of the higher operationally profitable companies. This could make the company an attractive investment as it maintains high profitability within the mid-range of the sector and aforementioned market capitalisation.
Summary
Given that they have ramped up production capacity by almost doubling capital spending, Occidental Petroleum has positioned itself to take advantage of a healthy global economy. If the globe avoids a recession, energy demand could remain heightened to benefit oil and gas businesses. The resistance at the $67.50 per share will likely be a point of interest should the share price recommence its uptrend.
Sources: Occidental Petroleum Corporation, Reuters, Nasdaq, TradingView, Koyfin