AstraZeneca PLC (LSE: AZN) delivered a solid 2022 with a blistering 25% growth in total revenues, despite being weighed down by declining sales of Covid-19 vaccines for most of 2022. Bullish traders rushed to buy the stock after Q4 earnings beat consensus by 2.74%, subsequently pushing AstraZeneca's share price up 3.7%.
The CEO gave positive guidance for 2023 with expectations of double-digit revenue growth, excluding Covid-19 vaccines, supported by a record 34 approvals of medical care products which will go on sale in major markets. Over and above this, growth in sales in emerging markets, particularly China, is projected to contribute to the overall top-line expansion.
Technical
Q3 2022's positive earnings jolted AstraZeneca's share price to the upside, with 9.52% realized to form an all-time high and a resistance at the £118.04 per share, while support was established at the £95.10 per share level.
A retracement from resistance led the price into the Fibonacci golden ratio of 61.8% before a rejection ensued. Better-than-expected earnings and healthy business fundamentals attracted more bulls into the market. Bullish investors are likely to set their sights on the £118.04 per share level as the exit door should they participate in the market.
On the other hand, if bearish momentum outdoes bullish momentum at present levels, the price might reverse and find its way back towards support at £95.10 per share.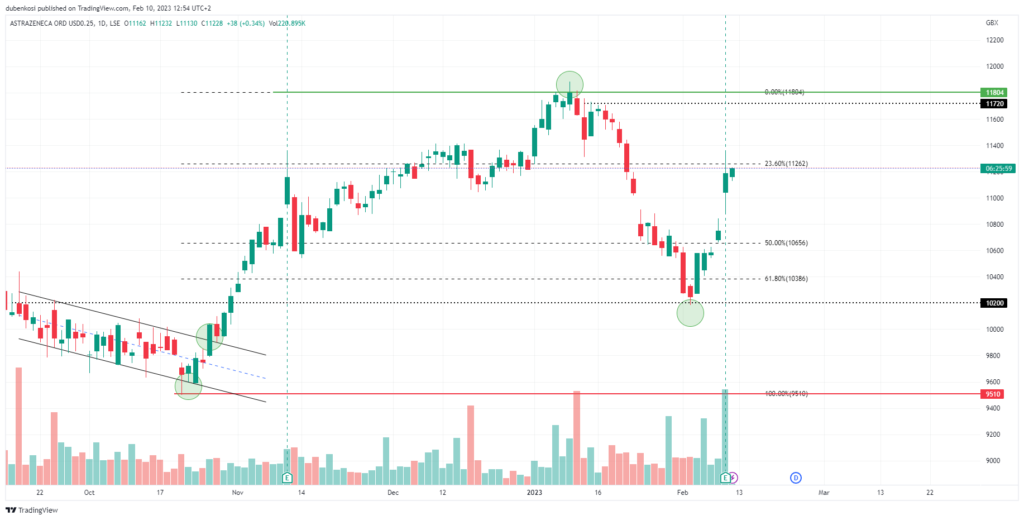 Fundamental
Pandemic-related fears subsided in 2022, supported by weaker Covid-19 vaccine (Vaxzevria) sales across the board. Despite the drop off in vaccine sales, sales of other medical products remained elevated. AstraZeneca's 25% revenue growth pales compared to 34% growth, excluding vaccine sales.
The solid operational performance was supported by a threefold growth in operating profit, unveiling AstraZeneca's operational health. Cash flows from operations were up 46% year-on-year to close the year at $12B from $8B. 2023's cash flows are likely to be boosted by the decline in debt obligations achieved in 2022 as net debt shed 5.75% to $23B.
Developed market sales make up 60% of total sales, followed by the Rest of the world, which contributes 40% (of which China makes up 13%). Given that AstraZeneca is in the business of selling necessity goods, it is unlikely that it will face severe headwinds derived from inflation and its detriment to consumer spending, especially in developed economies such as the US, where 40% of sales are recognized.
After discounting for future cash flows, AstraZeneca's fair value was derived at £117.20 per share, a premium of 4.8% to the current share price.
Summary
AstraZeneca's financial and operational health for 2022 will likely filter through into 2023. Combined with upbeat guidance for 2023, AstraZeneca's share price will probably be magnetized to the upside, given that no significant adverse business circumstances play out.
Sources: AstraZeneca, Reuters, TradingView, Koyfin