Pfizer posted its best revenues for a year, delivering a stellar $100B revenue, up a resounding 23% from the prior year. Revenue growth was largely driven by sales of Covid-19 treatments, two of which are Pfizer's most demanded products, Comirnaty (a covid vaccine) and Paxlovid (an antiviral drug), respectively.
Despite record revenues, Pfizer's outlook for 2023 is clouded by a post-pandemic era characterised by declining infections, prompting lower demand for vaccines. This has been reflected in Pfizer's Financial highlights for 2023, with an expectation of a decline in revenues between 29% and 33% to $67B for the year. A drop in revenue can potentially translate into a drop-off in earnings per share, leaving Pfizer's share price in a precarious position for 2023.
Technicals
Currently, the price has been downtrend and is trading near the lows of October 2022, with support at the $41.52 level. The resistance formed at the $55 level, accompanied by strong bearish momentum. The downtrend was primarily driven by lower revenue and earnings expectations for 2023.
The better-than-expected earnings result provided a jolt in price action as traders reacted positively to the result. Supported by the engulfing candle formed after the earnings release, if bullish traders push on with high volumes, the price will likely continue moving upward with a potential target at the $55 per share resistance level.
However, if bearish investors find pessimism at the current price concerning a gloomy outlook, the price is likely to move back towards support at the $41.52 level.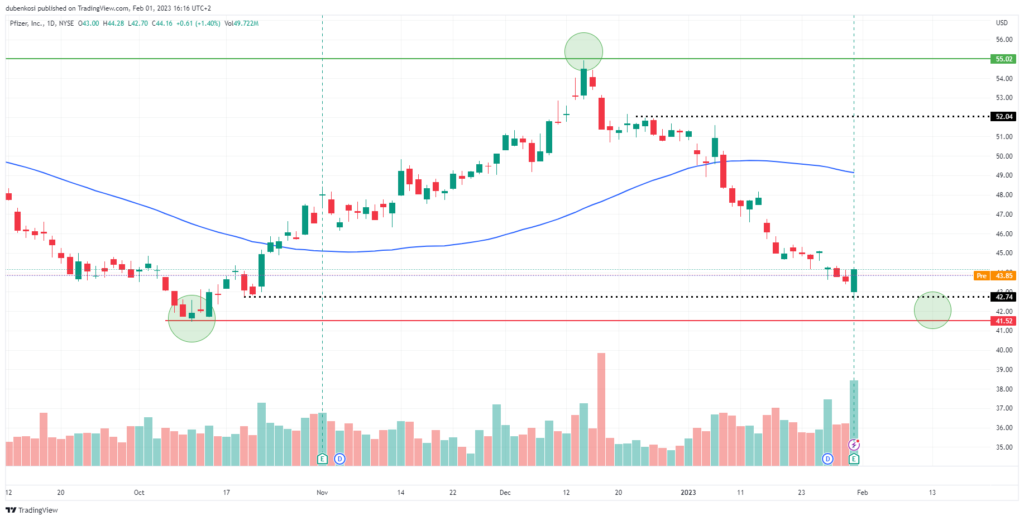 Fundamentals
Covid vaccine sales of $38B made up the majority of revenues for 2023. Improvement in sales produced a 43% Yearly growth in Net Income, from $21,979B to $31,372B. Excluding covid-19 treatments, growth for the year was a meagre 2%, reflecting the high importance of pandemic-related sales to Pfizer.
Pfizer's anticipated vaccinations for the US population in 2023 is 24%, a decline from 31% recorded in 2022. This reflects the weakening demand for Covid-19 treatment as the world moves away from the pandemic era. This is likely to cause significant harm to the top line, as reflected in Pfizer's financial highlights.
After discounting for future cash flows, an intrinsic value of $52 per share has been derived. The current share price trades at a discount and may provide short-term upside movement.
Summary
Based on the intrinsic value calculated, Pfizer has some room for upside in short to medium term. Upside movement is, however, likely to be undone by declining sales and earnings for 2023, especially in the pandemic-related segments, accompanied by a potential soft recession.