The EIA inventory count accentuated weekly demand for Crude Oil, which came in far below expectation. The count concluded the prior week with 3.49M barrels less than expected, indicating that weekly demand remained robust.
However, contrary to all expectations, the WTI Crude Oil Futures (NYMEX: CL) shed 2.20% in Wednesday's trading session to extend its losing streak into a third consecutive day. Traders have been jittery over the medium-term Crude oil demand outlook after the U.S. economy showed signs of moderation with a minor blip in services and manufacturing activity. Compounding on these concerns was industrial production and fixed asset investment that landed below expectations in the second biggest economy in the world, China.
Technical
The WTI Crude Oil Futures are testing the recent uptrend following a steep decline in the price action. Support and resistance were established at the $76.90 and $82.59 per barrel (BLL) levels, respectively.
With bearish traders on the front foot, their momentum could drive the price towards support at the $76.90 BLL level. A breakout below support on high volumes could signal the market's intention to lower the price, with the next probable level of interest at the $72.70 BLL level.
Alternatively, bullish traders could follow a textbook example of buying at support. With RSI conditions pointing to oversold levels, long positions could be validated if downside price action is accompanied by declining volumes, indicating bears dissipating from the market. Bulls will likely look to the $82.59 BLL level with interest if they commit to driving the price higher in numbers.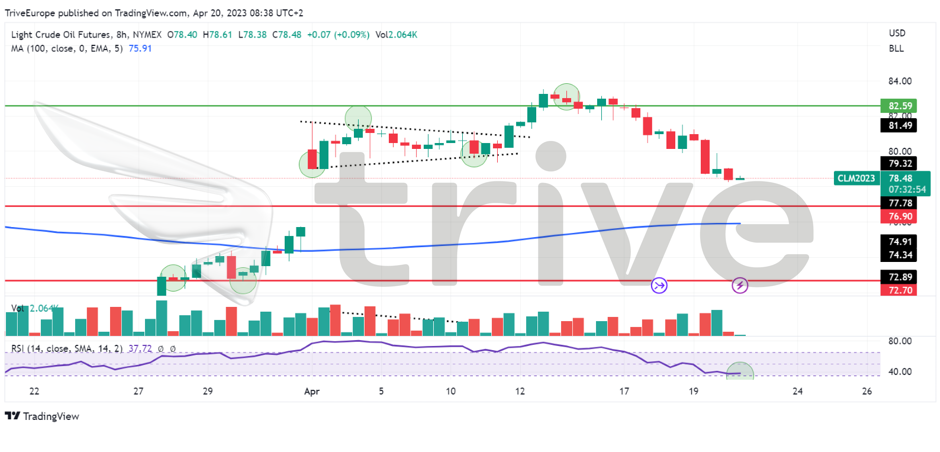 Summary
The WTI Crude Oils Futures' positive momentum, driven by the OPEC+ oil output cut announcement, has had its wings clipped off by traders unsettled over the growth prospects of the two biggest economies in the world. The $76.90 BLL level will be vital in determining whether demand concerns are tenacious, as the level could support prices, while a breakout below could infer bearish abundance.
Sources: U.S. Energy Information Administration, Reuters, TradingView