Natural Gas futures (NYMEX: NG) burst out of its 22-month low yesterday as bulls were optimistic about the possibility of colder weather in the upcoming days. Weekend temperatures in the northeast reached brief record lows following an arctic outbreak that caused some outrageous weather conditions in the US. The bears do not seem too bothered, as long-term forecasts remain mild.
After Russia cut off the export of pipelined gas to Europe, the gas supply was the focal point for the futures market. However, the continent has stocked up since then, with demand now becoming the driver of the futures price action. As the temperatures rise, the stockpiles are rising too, as weaker demand sent the price down to 22-month lows last week. With longer-term forecasts remaining gloomy, the demand-supply discrepancy may continue to exert downward pressure on the futures market.
Technical
As prices spiral downward, the current trading level of $2,490/MMBtu could be significant. If support holds, the bulls could temporarily push the price to the $2,623/MMBtu level in hopes of colder weekend temperatures pushing up demand. However, with the price still trading below the 50-day moving average and the RSI not indicating an influx of bullish momentum, more downside may also be on the cards if support does not hold. This will shift the focus back to the $2,345/MMBtu level as weakened demand continues to feed the bears. The Energy Information Administration will provide a further storage update on Thursday, giving traders a better idea of the tightness between demand and supply.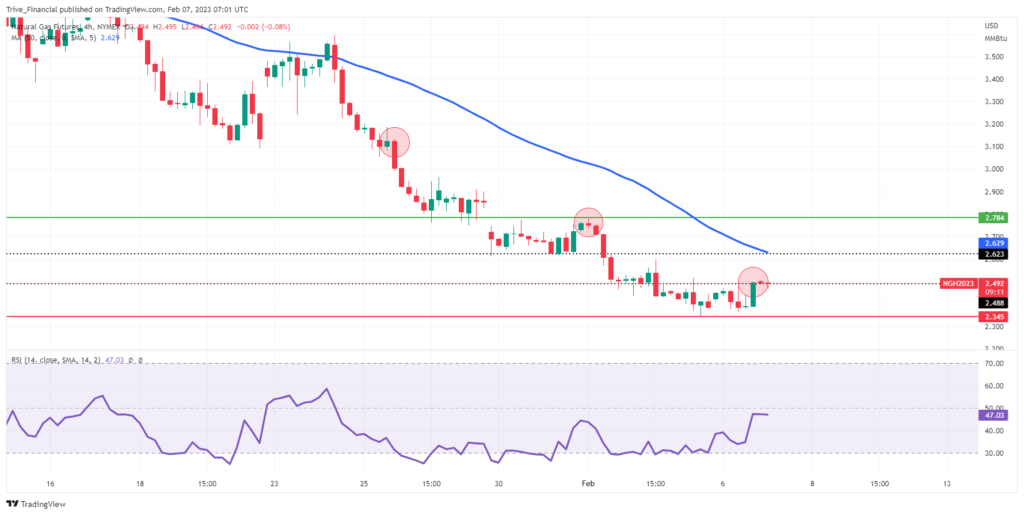 Summary
With supply continuing to outweigh the demand in a mild winter, the recent uptick could open up a potential short entry for the bears if support does not hold at $2,490/MMBtu with a possible target price of $2,345/MMBtu.
Sources: Koyfin, Tradingview, Energy Information Administration, Yahoo Finance