The USDCHF currency pair, also known as the "Swissie", experienced breakouts to both sides of a consolidation in recent weeks, driven by mixed sentiment about the strength of the US dollar. However, with price returning to consolidation, it may well be the Swiss franc's turn to take the wheel and drive the currency pair's price action as they await inflation statistics to be released on Monday.
Jerome Powell had the whole trading community's attention on Tuesday as he reaffirmed his stance that the disinflationary process in the US is currently underway despite growing concerns that the fight against inflation may not be won yet. He did, however, signal further rate hikes, which mixed the sentiment of traders about the outlook for the US dollar. Now, Switzerland will have their turn to play as they await its inflation statistics to be released. Switzerland already recorded a January improvement in their business situation, and the operating outlook and the inflation statistics could be vital in determining the SNB's monetary policy decision in March.
Technical
There has been a lot of market reaction in the consolidation rectangle range between 0,9232 and 0,9162. The dollar weakened on Wednesday after a slowdown in their rate hikes by 25bps signalled a potential halt in their rate hiking process, causing a breakout to the downside of the consolidation range. After that, it strengthened again after hawkish sentiment crept back following their stronger-than-expected employment announcement. This caused a breakout above the upper consolidation level. However, Jerome Powell's comments on Tuesday were enough to restore stability in the currency, pushing the Swissie back into the range.
Now, the focus shifts hand to the Swiss. If inflation numbers come in higher than consensus, a breakout to the range's downside may occur, pushing the currency pair towards a support level of 0,9122. Conversely, a slowing inflation number may invite the SNB to be more dovish, weakening the Swiss franc and causing a push through the upper level of the range towards the resistance at 0,9287.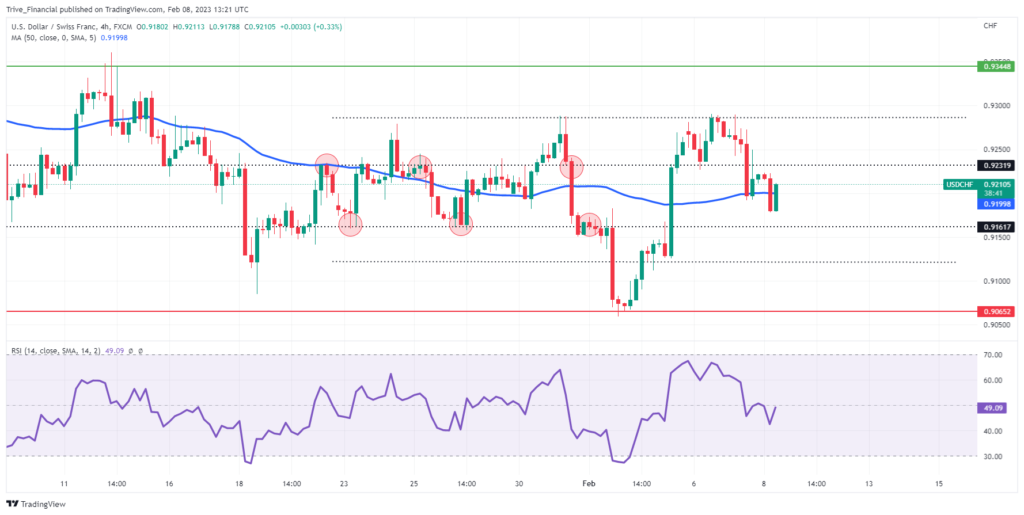 Summary
The market for the USDCHF is likely to resist at 0,9232 and provide support at 0,9162. However, CPI data released by Switzerland on Monday could be the catalyst to spark a breakthrough in either direction of the consolidation range.
Sources: Koyfin, Tradingview