Silver Futures (COMEX: SI) uptrend came to a halt in mid-December 2022 and had been ranging ever since as traders re-evaluate their positions and wait for cues from central banks and economic data releases.
The Federal Reserve's interest rate hike of 25 basis points thrust the metal up by 2.3%. 2023's economic outlook is shifting more towards an optimistic view. Lower rate hikes show economic recovery as inflation is seemingly becoming less and less of a burden for central banks worldwide. Therefore, the outlook for silver is positive, given that the technical aspect of price action supports the fundamental view.
Technicals
Price action is currently consolidating in a rectangle pattern as bullish traders have taken their foot off the pedal in response to improving economic conditions.
Support and resistance have formed at the 23.040 and 24.420 levels, respectively. Price action was pushed into the resistance level after a 50% retracement from support. Driven by the Federal Reserve's interest rate hike, bullish traders entered the market at the 23.460 level, which could potentially cause the price into a breakout of the resistance level. Should this scenario play out, the price will likely reach prior highs at the 24.770 level if accompanied by high volume.
However, if bearish traders gain interest at current prices, the price is likely to reverse from resistance with a target of support at the 22.952 level.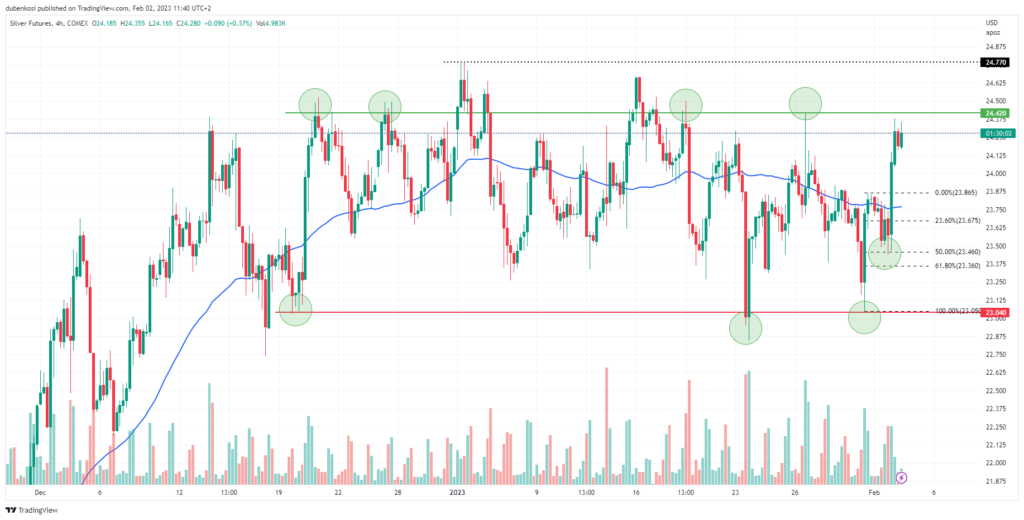 Summary
Traders will closely monitor the resistance level at 24.420 as a breakout above the level could indicate sustained bullish momentum. However, if the price level holds, bears could possibly have short opportunities in line with prior reversals from the level.
Sources: FederalReserve.gov, TradingView